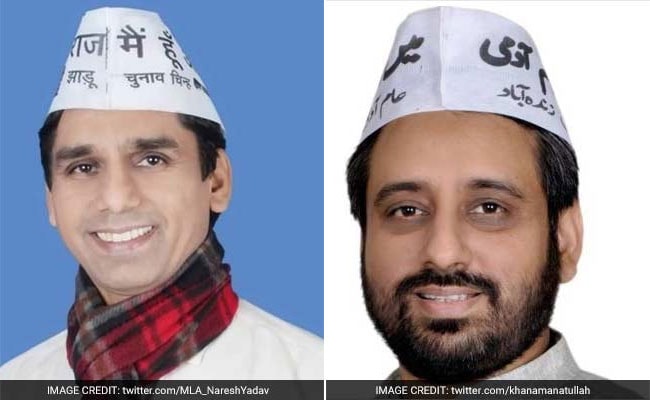 Highlights
Two AAP lawmakers were arrested within 12 hours on the weekend
The arrests took the number of AAP lawmakers held to 11
Delhi CM and AAP chief Arvind Kejriwal blamed PM Modi for the arrests
New Delhi:
11 and counting, says the Aam Aadmi Party after the arrest on Sunday of two of its Delhi lawmakers. Chief Minister Arvind Kejriwal has accused the Modi government at the Centre of "sending Delhiites to jail under false cases".
He has also described his party's power struggle with the BJP in Delhi as a "
holy war
between Kauravas and Pandavas", referencing the epic Mahabharat.
Two AAP lawmakers were arrested within 12 hours on the weekend - Amanatullah Khan, the party's lawmaker from Okhla, was arrested for
allegedly trying to run over a woman
protesting outside his home against power cuts and Naresh Yadav, AAP lawmaker from Mehrauli, is
accused of desecrating the holy Quran
.
Naresh Yadav, who was arrested by the Punjab Police and taken to that state, was produced in a court this morning. The judge reserved order, which means the AAP lawmaker remains in police custody for now.
Mr Khan will be produced in a Delhi court this afternoon. Both lawmakers have said they have been framed in "political conspiracies".
The arrests, made in Delhi, took the number of AAP lawmakers held in different cases to 11; the party had last year won 67 of Delhi's 70 seats, sweeping the assembly elections. The BJP came second winning the other three seats.
Mr Kejriwal alleged at a function in Delhi on Sunday that Prime Minister Narendra Modi
"could not digest his defeat".
He also tweeted, "Why is Modiji not arresting perpetrators of crime against women? It is shameful that Modiji has diverted the entire police from protecting women to arresting his political opponents." The Delhi Police, which arrested Mr Khan, reports not to the state government, but to the Centre's representative in the national capital, the Lieutenant Governor.
Mr Kejriwal has warned the BJP that if its government at the Centre does not stop targeting AAP, it will "meet the same fate in Punjab, Goa and Gujarat," states it rules on its own or with allies.
Assembly elections will be held in all three next year and Mr Kejriwal has announced that his party will attempt to form governments there.