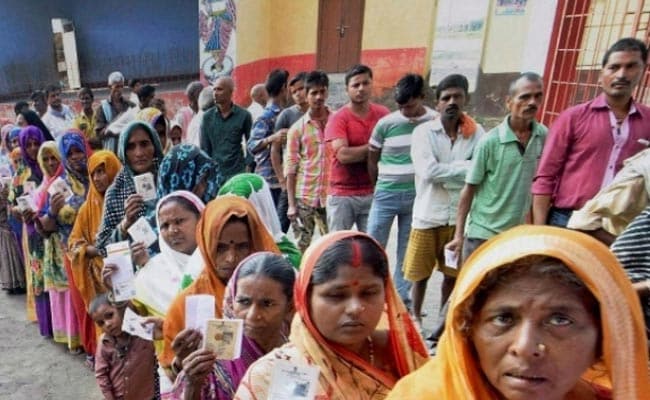 Bhopal:
Madhya Pradesh will go to the polls amid heavy security on Wednesday, with as many as 5.04 crore voters expected to elect a 230-member assembly in what promises to be a tough contest between the ruling BJP and the opposition Congress. Chief Minister Shivraj Singh Chouhan, in office since 2005, is seeking re-election from Budhni in Sehore district.
While the BJP hopes to storm to power for the fourth consecutive term, the Congress wants to make a comeback in a state that was once its stronghold. If the opposition party manages to eke out a victory, it will gain a major psychological advantage ahead of the Lok Sabha polls next year.
As many as 2,899 candidates, including 1,094 independents, are in the fray.
"Preparations for Wednesday's polling are complete. All polling parties have left for their respective booths and most of them have reached their destination," news agency PTI quoted Madhya Pradesh Chief Electoral Officer VL Kantha Rao as saying at a press conference on Tuesday.
Mr Rao said that while polling will be conducted from 8 am to 5 pm in 227 seats of the state, Lanji, Paraswada and Baihar in Maoist-hit Balaghat district will vote between 7 am and 3 pm.
The election officer said that 78,870 electronic voting machines will be used in the election, and as many as 1.80 lakh security personnel -- including paramilitary men -- have been deployed to ensure free and fair elections. "Webcasting will be held from 6,500 polling stations and videography will be carried out at 4,600 booths," he added.
According to Mr Rao, over three lakh government employees -- including 45,904 women -- have been deployed on poll duty across the state. While 65,341 polling stations have been set up, 17,000 of them have been granted additional security in view of their "sensitive" nature.
Of the 2,899 candidates, 250 are women and five belong to the transgender community, the electoral officer said. "As many as 1,794 candidates hail from the general category, 591 from Scheduled Castes and 514 from Scheduled Tribes. Seven of the 16 candidates contesting from Chhattarpur are women," he added.
While Bhind district's Mehgaon constituency boasts of the highest number of candidates at 34, Gunnor in Panna district is the lowest at four.
The BJP is contesting from all the 230 seats in the state. The Congress has fielded 229, leaving one seat -- Jatara in Tikamgarh district -- for ally Sharad Yadav's Loktantrik Janata Dal. The Bahujan Samaj Party (BSP) also hopes to make a big impact, or at least play kingmaker in case of a hung house, by fielding an ambitious 227 candidates in the election. The Samajwadi Party will try its luck on 52 seats while the Aam Aadmi Party -- which is contesting the Madhya Pradesh elections for the first time -- has fielded 208 candidates.
The BJP had won 165 seats, the Congress 58 and the BSP four in the last assembly polls. The remaining three seats were scooped up by independent candidates.
(With inputs from PTI)