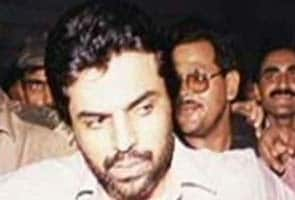 Nagpur:
Nagpur Central Jail authorities have tightened security for Yakub Abdul Razak Memon after his death sentence was upheld by the Supreme Court yesterday for the 1993 Mumbai serial bombings.
Jail sources said Yakub Memon is lodged in a special cell and steps are being taken to avoid his contact with three other convicts of the serial blasts kept in the same prison.
Yakub Memon, brother of missing underworld don Ibrahim or 'Tiger' Memon, is the only convict on death penalty in the case. The death sentences of 10 others were commuted to life sentences by the top court.
The court described the Memon brothers as the "driving spirit" and "architects of the blasts, without whom the plan would have never seen daylight". Tiger Memon is believed to be in Pakistan along with fugitive don Dawood Ibrahim.
"Since Yakub Memon as well as other absconders were the real conspirators who hatched the scheme for such a tragic act, the other 10 appellants were mere subservient subordinates whose knowledge and acquaintance might have been restricted to their counterparts," the court said.
More than 250 people were killed and over 700 injured in the 12 coordinated bombings that ravaged Mumbai on March 12, 1993. Among the targets were the Bombay Stock Exchange Building, the Passport Office, Sahar Airport, Air India building, Hotel Juhu Centaur, a fishermen's colony in Mahim Causeway and Zaveri Bazaar.