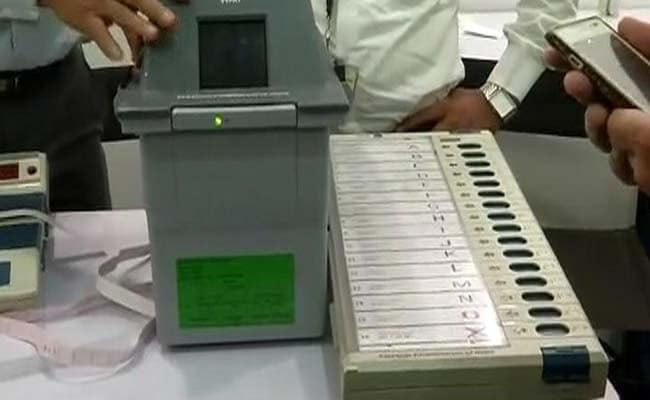 Highlights
Political parties had alleged vote machines can be rigged
Election Commission's challenge accepted by 2 parties
AAP rejects Election Commission's event, will hold its own hackathon
New Delhi:
The Election Commission has organised more than 10 vote machines that were recently used in elections in Uttar Pradesh for tomorrow's hackathon, where political parties will try to prove in Delhi that the machines can be rigged.
A total of 14 Electronic Voting Machines or EVMs will be made available to representatives of Sharad Pawar's party NCP and the Left who hope to prove that the Election Commission is wrong and that the equipment used by it can be gamed, as alleged by a series of political outfits including the Congress and Delhi Chief Minister Arvind Kejriwal's Aam Aadmi Party or AAP after Prime Minister Narendra Modi front-lined his party's gigantic wins in Uttar Pradesh and Uttarakhand.
AAP, which has accused the Election Commission of colluding with the BJP to rig results in its favour, has announced that it will hold a parallel hackathon of its own tomorrow. The machine it will make available to techies and others is the one that was used by the party in the Delhi Assembly last month in a televised demonstration of its manipulation. The Election Commission said the machine used was a far cry from the real thing and rejected the result.
At the Election Commission's event, hackers will get five hours - from 10 am to 2 pm - and access to four machines each. The other EVMs will be kept as back up.
The Election Commission has said its challenge has two parts - the hackers will have to prove that the EVMs used in the five states that just voted including UP and Punjab were manipulated to favour a particular candidate or political party by altering the results stored in them.
In their effort, hackers will be permitted to use a combination of keys or buttons on the electronic machines, or over the air communication devices such as cellphones and Bluetooth to tamper with the machine to change the results.
Part Two of the challenge calls for participants to prove that the machines used in the assembly polls were manipulated before or on the day of voting.
The participant will be considered "failed" if the EVM stops functioning as a result of its inbuilt defense mechanism against tampering.
The participants - three members per party - can "physically examine" EVMs and check circuits, chips and motherboard, but cannot replace any part. Arvind Kejriwal's party had asked for these restrictions to be removed, claiming it "would not be possible to tamper with the machines without giving people a free hand to do so."