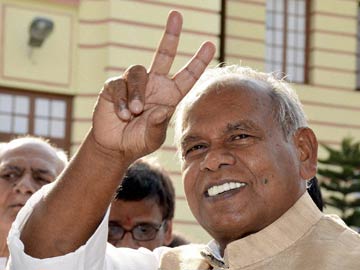 Patna, Bihar:
Induction of new ministers indicated preparation of the Janata Dal (United) for the crucial state Assembly election next year.
Caste and regions have been given prime considerations in selection of new ministers.
Former chief minister Nitish Kumar along with chief minister Jitan Manjhi picked the new ministers after a week-long discussion.
Mr Manjhi - hailing from mahadalit community, poorest among the dalits - was made the CM after Nitish Kumar resigned following the debacle in the general election.
Luck finally smiled for Shrawan Kumar, five-time MLA from Kumar's home district Nalanda, as he was inducted into state cabinet. Kumar's departure helped him find a place in the cabinet as member of backward Kurmi caste to which Kumar himself belongs to.
Except for Ram Lakhan Ram Raman and Samrat Chaudhary, the remaining 12 became minister for the first time.
Bima Bharti, MLA from Rupauli in Purnia district, was so excited that she forgot to read the entire oath. Bindo Prasad Yadav, MLA from Sherghati in Gaya district, was about to leave the stage after reading oath without signing the register when he was reminded of the exercise.
Samrat Chaudhary and Javed Iqbal Ansari denied being rewarded for engineering defection in RJD.
"Had this been the case we could have found a place in the ministry in February itself when we had decided to walk out of RJD," Samrat Chaudhary, who along with his father and senior RJD leader Shakuni Chaudhary had left Lalu Prasad to cross over to Nitish Kumar party, told PTI.
Javed Iqbal Ansari also echoed similar views.
Mahachandra Prasad Singh, a former Congress MLC, who switched sides to JD(U) recently, has been representing Saran graduate constituency in Legislative Council since 1980.
However, voice of protest has also emerged from within the party over induction of new ministers.
JD(U) MLC and party spokesman Neeraj Kumar, in an apparent remark on Rajiv Ranjan Singh Lallan, said those who had "abused" Nitish Kumar and worked against the party in 2010 Assembly election has been rewarded with a minister's post at the cost of genuine workers.
Neeraj Kumar said he has resigned from the post of JD(U) deputy chief whip in Legislative Council and also party spokesman.
Second-time MLA from Barh Gyanendra Singh Gyanu too protested. "Genuine party workers have been ignored and party hoppers have been rewarded," he told PTI.
Gyanu too apparently hinted at Lallan becoming Road Construction Minister when he said, "Those who had betrayed the party and abused Nitish Kumar has been rewarded."
"Those who cannot even read the oath paper has been made a minister," he said adding the CM was a 'good man' but he had no say in selection of the new ministers.
Gyanu said due to such people the JD(U) has been reduced to two MPs from 20 in 2009 and "it proves that that party has not learnt any lesson. What will happen in 2015 Assembly polls may be worse than this."
Meanwhile, chief minister Jitan Manjhi, who had been heading 18 departments, is now holding only 12 departments after distribution of portfolios among his cabinet colleagues.
Follow NDTV for latest election news and live coverage of assembly elections 2019 in Maharashtra and Haryana.
Subscribe to our YouTube channel, like us on Facebook or follow us on Twitter and Instagram for latest news and live news updates.