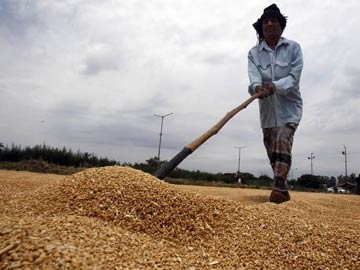 New Delhi:
The roll out of the Food Security Act that entitles nearly 70 per cent of India to cheap food has been pushed back by three months, the government said today, in a blow to the plan that's worth nearly 120 thousand crores or 20 billion dollars.
The deadline to implement the Act was on July 5, but the inability of some states to implement it has delayed its roll out, Food Minister Ram Vilas Paswan said.
His announcement came after he met with the Prime Minister and Finance Minister Arun Jaitley this morning.
The Act was pushed through Parliament last year by the previous government led by the Congress party and entitles two-third of the population to subsidised wheat and rice.
Prime Minister Narendra Modi's party, the BJP, had earlier called the welfare scheme too narrow to tackle the widespread malnutrition among India's millions of poor.
The delay in implementing the scheme is caused by problems in identifying beneficiaries in different states.
The Centre sets a cap on the number of beneficiaries, based on poverty figures for each state. According to its quota, each state identifies the households that will be eligible for the subsidized grain, which will use the existing Public Distribution System (PDS) to deliver the rice and wheat.
So far, 11 states and union territories have completed this process.