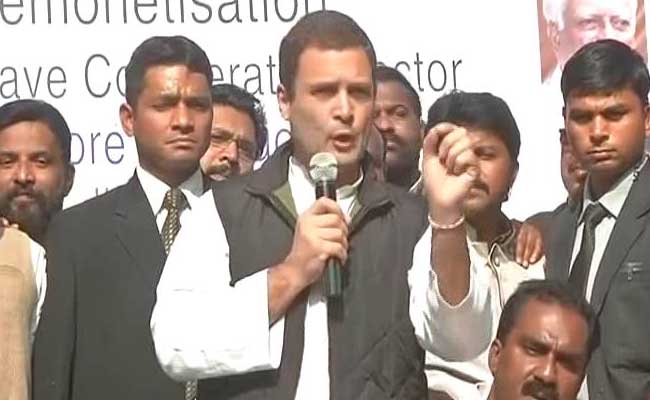 New Delhi: The Congress today launched a sharp personal attack on Prime Minister Narendra Modi, with its vice-president Rahul Gandhi saying he had information on "personal corruption" by the Prime Minister. The information, he said, will "explode" the PM's "balloon", which was why he was not allowed to speak in parliament on currency ban. As Arvind Kejriwal's Aam Aadmi Party challenged him to release the information outside parliament, the BJP claimed that the Congress leader was bluffing and demanded that Mr Gandhi apologise.
Here are the 10 updates in this big political story:
"My information is personal information on Narendra Modiji, which I want to put out in the Lok Sabha. I want to say it there as an elected member of parliament," Rahul Gandhi said. "Read my lips... the PM is personally terrified of the information I have, we have. It is personal corruption of the PM that we have detailed information on."
Mr Gandhi made the declaration before the media at the Parliament House shortly after the Lok Sabha was adjourned for the day. He was accompanied by the leaders of 15 opposition parties.
The BJP shot back, saying the allegation was baseless and Rahul Gandhi's statement was a "sign of desperation" of the Congress. If Mr Gandhi had information to share in parliament, "he could have done it on day 1, on day 2. Till today he was not ready to speak," said senior BJP leader and union minister Ananth Kumar.
Another senior minister, Prakash Javadekar, said Mr Gandhi should speak. "When you do, you expose the Congress, so we want you to speak," he said.
Delhi Chief Minister Arvind Kejriwal dared Rahul Gandhi to speak, alleging that the Congress leader's statement was merely an example of the "friendly match" between the party and the BJP.
"If Rahul Gandhi actually has papers on Modi ji's personal involvement in corruption, then why doesn't he expose it outside Parl?" Mr Kejriwal tweeted.
The Congress attack comes as the bitter tug of war between the government and the opposition has all but washed out the winter session of parliament.
The opposition demands that PM Modi must be present through the debate on currency ban and explain the government's decision. The BJP has shot back saying PM Modi was ready to speak but was not being allowed to do so by the opposition.
Though PM Modi came to the Lok Sabha this morning, it was adjourned within minutes as opposition members started shouting slogans about the government's decision to ban high denomination notes of Rs 500 and Rs 1,000.
Since the surprise announcement of PM Modi on evening of November 8, the country has been facing an immense cash crunch. Day-long queues have been seen outside banks and ATMS. PM Modi has promised that the situation would normalize within 50 days.