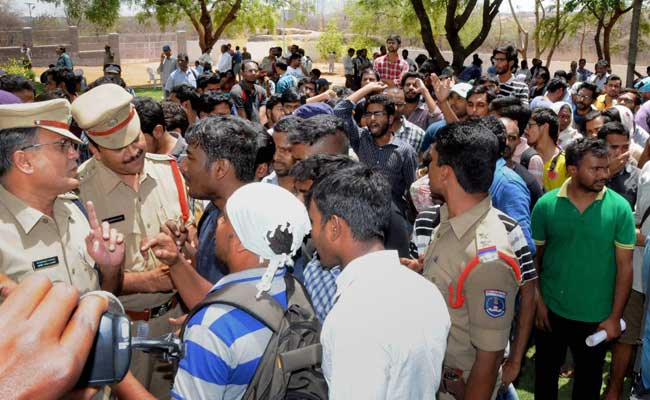 Highlights
Protest against alleged police brutality of students
Group calling for boycott leading protest over Rohith Vemula's suicide
Students calls for immediate removal, arrest of HCU Vice Chancellor
Hyderabad:
The joint action committee for social justice of the Hyderabad Central University (HCU), the students organisation which is leading the protest over the Rohith Vemula issue, has called for boycott of classes "at all the (college) campuses" in the country today.
The call is in protest against the alleged police brutality on students of HCU and in Kozhikode, Mumbai and Chennai, the JAC said in a press release.
It also demanded dropping of all charges against students, faculty members at HCU and elsewhere in the country and immediate removal and arrest of P Appa Rao, Vice Chancellor of HCU, under the SC/ST (Prevention of Atrocities) Act.
Its other demands include "demilitarisation of the campus, action against police for the unnecessary and targeted violence, false detention, misinformation about the detained people and physical and sexual assault on women students and faculty, and introduction of Rohith Act," according to JAC's press release.
Several students were arrested following an attack on the Vice Chancellor's residence on March 22 after Mr Appa Rao, who had gone on a long leave after Dalit scholar Vemula's suicide, resumed duty.