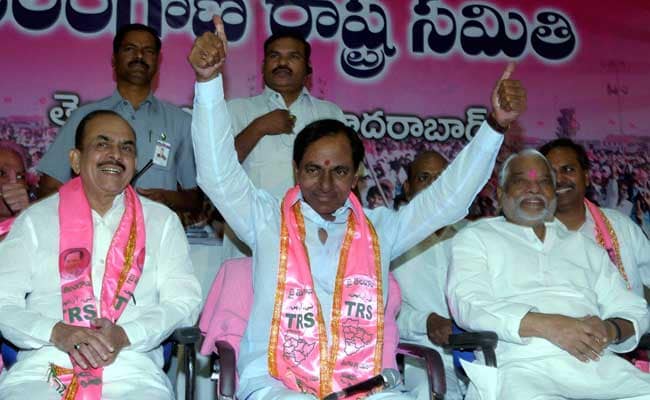 Hyderabad:
The promise of double-bed room houses for the poor, wooing influential leaders from other parties and giving tickets to Seemandhra natives are among the key factors that led to the clean sweep of TRS in the Greater Hyderabad Municipal Corporation (GHMC) elections.
The ruling Telangana Rashtra Samithi in Telangana scored a thumping victory by bagging 99 in the 150 wards in the polls results of which were declared late last night.
Opposition Congress (2) and TDP-BJP (1-4) combine suffered a humiliating defeat having been reduced to single digit scores.
The largely old city-based MIM, led by Hyderabad lawmaker Asaduddin Owaisi, is the only party that withstood the onslaught of the ruling party by winning 44 wards.
The victory completes the domination of TRS in Telangana politics as the party has, hitherto, been considered weak in the GHMC limits.
The results show that the TRS has come a long way from not even contesting the last GHMC elections in 2009. It won just a couple of seats among the 24 assembly segments that come under the GHMC limits.
The GHMC win also gives TRS the means to sustain its strength in the long run in Telangana politics as 24 assembly segments in the state come under the GHMC limits.
Any major defeat in the GHMC polls would have been an embarrassment to the TRS though it runs the state government.
Determined to wrest the GHMC, TRS appears to have begun its preparations long ago. Four TDP MLAs, including T Srinivas Yadav who was later made Minister, also joined TRS in recent months, helping it to strengthen the base in segments under GHMC.
Several ward-level leaders from opposition parties had also joined the TRS ranks in the run up to GHMC polls and emerged victorious.
It is now widely acknowledged that the promise of double-bed room houses for poor worked wonders for the TRS, whose government built them in a city residential colony as a first step.
The February 2 GHMC election recorded over 45 per cent voter turnout, mainly from the poorer sections.
Chief Minister K Chandrasekhar Rao announced yesterday that one lakh double bed room houses would be built in the city in the coming months.