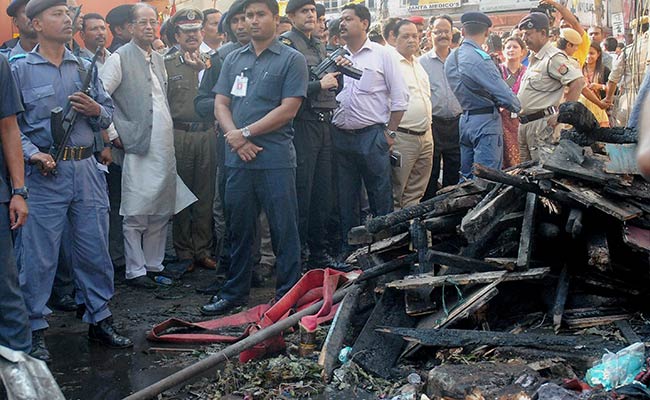 Guwahati:
A major fire engulfed a major portion of Fancy Bazar, the main commercial hub of Guwahati and the North East region, late last night.
The fire engulfed shops, godowns and residential buildings in the congested market stocked with garments, household goods and other essential items.
There was no report of any casualty, an official said.
Over 30 fire tenders were brought in from different parts of Guwahati and neighbouring areas to battle the flames, Guwahati City Commissioner Mukesh Agarwal said.
The inferno engulfed New Market, Tiwari Market, Keshav Katra Market and Radha Market, located side by side, inside the wood and tin roofed 'Assam Type' houses, a fire brigade spokesman said.
Kamrup (Metro) Deputy Commissioner M Angamathu said the immediate concern of the district administration was to ensure that the fire did not spread further.
The NDRF and SDRF were assisting the fire brigade that had pressed into service hydraulic lift with water jets to fight the inferno.
The people residing in the area were evacuated and arrangements had been made to lodge them in the neighbouring marriage and community halls, Commissioner Angamathu said.
The cause of the fire and loss would be ascertained only after investigations, the DC added.
Though the blaze was brought under control, this morning smoke was seen billowing out from the shops.
Smoke was also coming out from a tall building which could be stored with inflammable items, a police official said.
Locals claimed that Diwali fire crackers caused the fire in the congested market area.
The area has been cordoned off to facilitate movement of the fire fighters and keep people at bay.