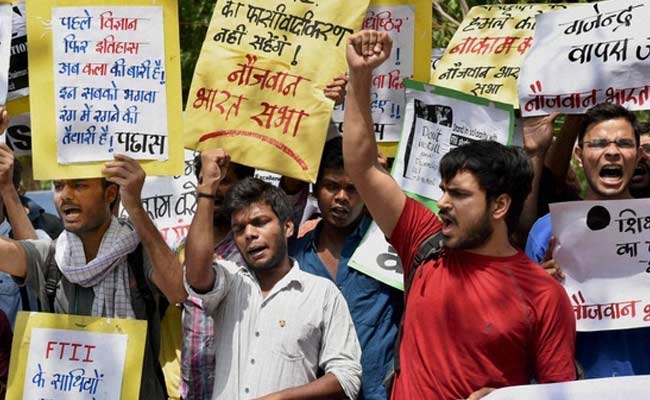 Panaji:
The agitating FTII students started their 'rebel' film festival on Tuesday, featuring films made by the current and past students of the film institute, in protest against the exclusion of their films from the ongoing International Film Festival of India (IFFI).
A big posse of policemen was present at Institute Piedade, the venue of 'Retracing Freedom - Goa Chapter', the two-day festival started alongside IFFI by Film and Television Institute of India students.
Pratik Vats, an FTII alumnus and an independent filmmaker who is part of the organising team, has accused the government of going to extreme lengths to stifle students' protest.
Last week, the police had detained two FTII students at the IFFI venue in Goa for shouting slogans.
"We have been banned from the venue (of IFFI), when all we wanted to do was something creative. There is nothing illegal we wanted to do. Why is there so much suspicion? We are not here to disrupt," Mr Vats said.
Filmmakers such as Saeed Mirza, who are supporting the agitation of students against the appointment of Gajendra Chahuan as chairman of FTII, have questioned absence of FTII students' films at IFFI.
"In the event of the bizarre scenario of the students section being cancelled from this edition of the IFFI, we feel it is pertinent to screen a package of films made by students of FTII. The package represents a wide variety of student work which proudly reflects the plurality of FTII's artistic expression and aspiration," the organisers said.
The two-day festival will also screen films made by some former FTII students who have returned their national awards to express solidarity with the agitation at their alma mater.
"This festival is another step towards reclaiming our freedom of thought and artistic expression that is under relentless attack currently across the country," they added.
The district administration has asked the organisers to screen only the films which have clearance of the censor board.