Highlights
Curcumin in turmeric has anti-inflammatory properties
Turmeric is great for exfoliation
Turmeric, honey and milk face mask may slow down skin ageing
Hectic work schedules, tight deadlines, long work hours, pollution, unhealthy diet and irregular sleep cycles are all reasons behind skin ageing and the skin appearing lifeless nowadays. The quality of skin on the face is an indication of the amount of stress and pressure that the body undergoes and unless you take special care of it, the quality of your facial skin depreciates. There are certain foods that you should add to your diet, in order to maintain a healthy and beautiful facial skin. Including more and more foods rich in antioxidants and inflammation-fighting foods in your diet may help fight skin ageing and these include foods like egg yolks, olive oil, nuts, berries, etc. However, just healthy diet isn't enough- you should regularly treat your skin to natural face masks made from antioxidant-rich ingredients. One common kitchen ingredient which often features in a number of natural anti-ageing face masks in turmeric.
Turmeric Against Skin Ageing
There are a number of reasons why turmeric is great for keeping lifeless skin and skin ageing under check. Here are some of them:
1. Fighting Free Radicals: The main active ingredient in turmeric is curcumin, which is known to fight free radicals in the skin and slows skin ageing.
2. Antibacterial properties: Turmeric is known for its antibacterial and antiseptic action and this is how it keeps acne and pimples at bay. It helps heal wounds as well.
Also Read: 8 Unexpected Ways To Use Turmeric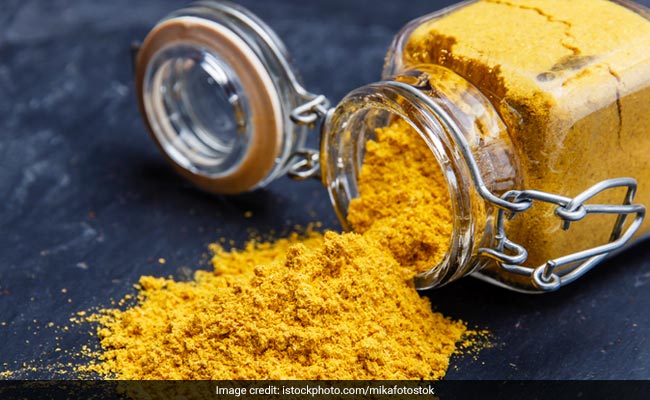 Turmeric for ageing skin: It contains curcumin which is anti-inflammatory in action
3. Lessens Secretion of Oil: For someone who has a particularly oily skin, turmeric may work wonders as it may lower secretions of the sebaceous glands in the skin.
5. Exfoliation Properties: Turmeric powder or paste can be used to exfoliate your skin and remove dead skin cells, thus maintaining a healthy and youthful glow on your face.
Turmeric Anti-Ageing Face Mask
Turmeric can be added to numerous face masks for a natural and healthy glow. One of the best anti-ageing face masks using turmeric is the one that combines the hydrating action of honey and milk with the antioxidant properties of turmeric. All you need to do is take one teaspoon of turmeric with a teaspoon each of milk and honey and mix them all up to form a thick paste. Clean your face with plain water and dab it with a paper towel to remove dampness and then apply the turmeric paste to your face. Let the turmeric face mask sit for about 10 to 15 minutes and then wash it off to reveal a glowing, healthy and youthful skin.
Also Read: Is Your Turmeric Real Or Fake? Use These Smart Tricks To Find Out
Make sure you only use good quality and organic turmeric powder for your face masks, to reap the maximum benefits from its antioxidant action.