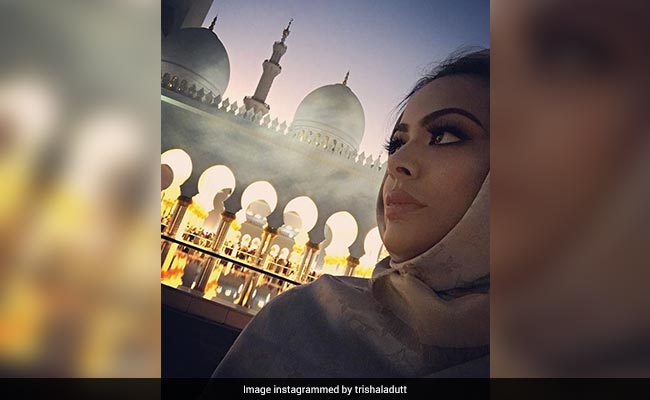 Highlights
Trishala Dutt was holidaying in the UAE recently.
Dutt's Dubai pictures created quite a buzz on social media.
Her fancy gold dusted coffee caught our attention.
Sanjay Dutt's daughter Trishala Dutt was holidaying in Dubai and Abu Dhabi recently and her pictures have been creating a buzz on social media, especially among her huge fan following on Instagram. The 29-year-old who has around two lakh followers on Instagram, seemingly loves travelling and sharing pictures of her adventures with her fans. Trishala Dutt's stunning pictures are always the talk of the town. But more recently, there was something else on her Insta feed that caught our fancy.
Trishala posted a picture of a 24 carat gold dusted cappuccino that she had at Emirates Palace in Abu Dhabi. The picture's got us drooling and wishing we had pockets deep enough to buy ourselves some of that shiny coffee too!
The cappuccino is one of the main attractions of Le Café at Emirates Palace and if you're a coffee lover, this cup is likely to make you experience heaven on Earth. Known as the Palace Cappuccino, the gold dusted coffee is served on a polished silver tray, with a special date and some dark chocolate. They also serve a palate cleansing glass of water to finish the experience off.
If you were wondering how much this cappuccino, that Trishala Dutt indulged in, costs and whether to have it the next time you're in the UAE, then you might as well brace yourselves. This blingy gold coffee will set you back by Rs 1300! This isn't the only time that Trishala has shown some love to coffee.
In fact, the popular Insta-diva often shares pictures of her favored cup of the day on her page. Well, we just hope Trishala Dutt gets to travel more and share some more interesting foodie snapshots with us!