The holy month of Ramadan, or Ramzan, has begun from 17 May 2018 and would go on till 16th June. The ninth month of the Islamic calendar, Ramadan is one of the most revered months for people of Islamic faith. It is said that it was in this month that the Holy
Quran
was first revealed to Prophet Mohammad. Muslims across the world, observe ritualistic fasts called
Sawm
through daylight and
break their fasts together after sunset (Iftaar)
. In addition to the fasts, Muslims, during these auspicious days, read out the
Quran
together and seek blessings of the almighty God. The fast is broken with the grand celebrations of
Eid-A-Fitr
, or
Meethi Eid
, the first day of the next month
(Shawwal)
.
Significance And History Of Ramadan

There's a reason why the month of Ramadan is considered pious and revered so deeply. It was in this month that the holy Quran was revealed. The Quran comprises fables and lessons and serves as a guiding manual for the mankind. The glorious night on which the Quran was revealed to Prophet Mohammad is referred to as the
Lailat al-Qadr.
Many say that the gates of heaven are open during this month and the devils remain chained behind the doors of hell. It is said that during this month, the prayers made with truest devotion are always fulfilled, and good deeds would reap results of several years of worship. People read the Quran, observe the holy fast and are civil to one another. After the sunset, people gather together for
Iftar.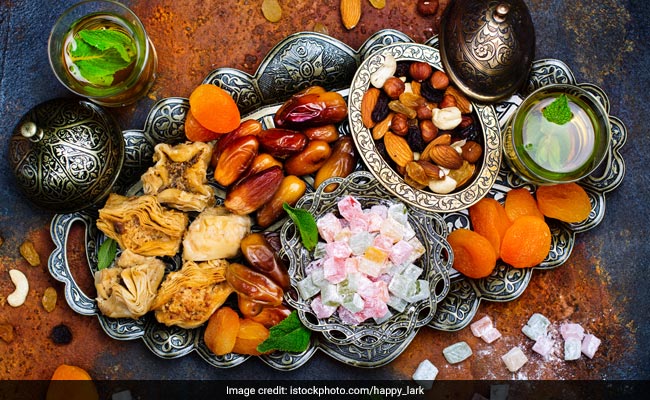 The ritual of fasting also has a deep symbolical significance tied to it. When one is fasting, devotee's heart is considerably free of worldly activities and he is one with God. It cleanses the soul of all sinful impurities, and instills a sense self-discipline, self-control, sacrifice and empathy for those who are less fortunate. A major highlight of the Ramzan fasting is the spirit of charity, or
zakat.
It is highly encouraged in Islamic faith to reach out to those less fortunate and include them in the collective feasting during
Iftar.
Significance Of Sehri And Iftaar in Ramadan
The feasting also forms an integral part of Ramadan, too.
Muslims wake up early in the morning and consume a pre-fast meal called the sehri after saying their prayers
. At sunset, families gather together and break their fast with a delicious spread called
Iftar.
It is a custom to break the fasts with dates. The tradition is tied to the legend of Prophet Mohammad breaking his fast with three dates. Iftaar is usually a lavish deal and many communities across India and abroad organise a mass gathering, where signature Ramzan dishes, drinks and desserts are served.
Sherbets, kebabs, biryani, haleem,
grilled vegetables are a regular feature. The desserts are an indulgent affair, too.
Sevaiyan, phirni kulfi falooda
and range of exquisite sweetmeats make for a sweet ending to the day.
Ramadan 2018 Mubarak everybody!
Get Breaking news, live coverage, and Latest News from India and around the world on NDTV.com. Catch all the Live TV action on NDTV 24x7 and NDTV India. Like us on Facebook or follow us on Twitter and Instagram for latest news and live news updates.