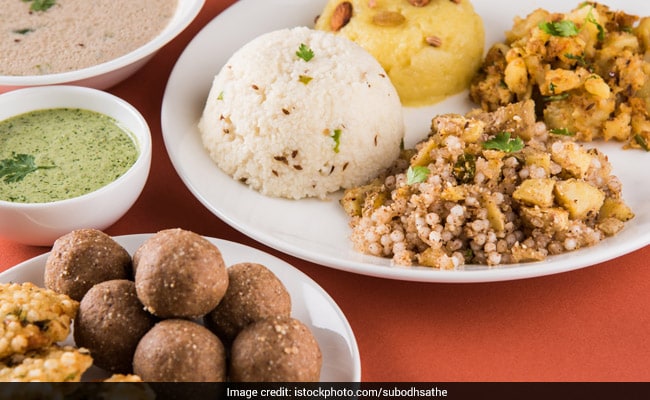 Sharad Navratri 2018 is here and the country is brimming with all things festive and colourful. Sharad Navaratri is one of the two big Navratris that is celebrated widely across the country. Navratri is a nine-day long celebration that holds a special significance for Hindus across the world. This year Navratri is being celebrated from 10th October to 18th October. Dussehra, or Vijay Dashmi, would be celebrated on 19th October 2018. Devotees across the country have completely immersed themselves in the festivities. It is said that for these nine auspicious days, Goddess Durga descends from heaven and takes shelter in the homes of her devotees. Each day of Navratri is dedicated to an incarnation of Goddess Durga; therefore, in these nine days nine forms of Durga are worshipped. During Navratri, devotees read out prayers, sing hymns, make multiple offerings of flowers and delicious prasad to seek the divine blessings of the Goddess. Some followers also observe special Navratri fasts as a mark of respect to the Goddess. During fasting, people avoid drinking alcohol, smoking and consuming meat. They adopt a clean and light satvik diet. Some devotees observe these fasts for all the nine days, while some pick particular days. So, while you make stock of the ingredients you can or cannot have, make sure you go through this list once and check if you have not ruled out any of these. If you are observing the fast for the first time, this list could prove as a good guide to fruits, vegetables, grains and spices that you can or cannot have while observing Navratri vrat.


Navratri 2018: List Of Foods You Can Have And Avoid During Navratri Fasting (Navratri Vrat)


What You Can Have:

1. Fruits: There is no restriction over fruits; you can have all your favourite fruits. This is perhaps the best time to enjoy the seasonal goodness in apples, water chestnut, pomegranate and kiwi. It is a good idea to have them whole and fresh, juicing them would cost you essential fibres. You can make a quick fruit chaat or have them with a bowl of yogurt.

2. Flours: You cannot have your regular maida or atta during Navratri fasting. However, you can use like kuttu ka atta (buckwheat flour) or singhare ka atta (water chestnut flour) to make your chapattis.

3.Vrat ke chawal: You cannot have your regular rice either. however, you can have samak ke chawal or samvat ke chwaal (barnyard millet) to make pulavs, khichdi and kheer.

4. Sabudana: Sabudana is another popular vrat fixture you must have up in your kitchen pantry this fasting season. There's a range of dishes you can prepare from tapioca often use to prepare papads, kheer or vadas. Here are some sabudana vrat recipes you can try this Navratri.

5. Makhana:Makhana, or puffed up lotus seeds, are much in demand too right now. This vrat ingredient can be used to make makhana kheer or you can also roast it and have it as a snack.

6. Rock Salt: Table salt is also a strict no-no. All preparations should be done using sendha namak or rock salt. Sendha namak is a highly crystalline salt, which is made by evaporating sea water and does not contain high amounts of sodium chloride (unlike table salt). Since it does not undergo any processing, it is considered to be purer in nature.

7. Spices: As far as spices are concerned, you can use cumin or cumin powder, black pepper powder, green cardamom, cloves, cinnamon, ajwain, black peppercorns, dry pomegranate seeds, kokum, tamarind and nutmeg. Some people also use fresh coriander leaves, red chili powder, dry mango powder, chaat masala (especially with fruits), while some may not use them. A lot depends on the devotees' beliefs and home traditions.

8. Vegetables: Only satvik vegetables should be consumed during this period. Vegetables that are tamasic in nature or produce heat should be avoided. Potatoes, sweet potato, tomato, bottle gourd or lauki, arbi, kachalu, suran or yam, lemons, raw or semi-ripe pumpkin and raw pumpkin, spinach, tomatoes, bottle gourd, cucumber and carrots are often considered as vrat favourites and are consumed in huge numbers.

9. Milk Products: There is no bar on milk or dairy products. You can have milk, curd, paneer, desi ghee, malai and preparations made with milk and khoya. It is advisable to make your own paneer at home to make sure the purity is retained.



What To Avoid:


1. All the fast-related food needs to be prepared without onion or garlic since they produce heat and are tamasic in nature.
2. If you are fasting, you have to keep away from legumes and lentils.

3. Rice flour, cornflour, all-purpose flour, whole wheat flour and semolina (rava) are also not permissible.

4. Non-vegetarian food, eggs, alcohol, smoking and aerated drinks are also avoided during Navratri fasting.

5. Spices like turmeric (haldi), asafoetida (hing), mustard (sarson or rai), fenugreek seeds (methi dana), garam masala and dhania powder (coriander powder) are avoided, as they are known to produce generate heat in the body.

It must be understood that many households have many varied sets of beliefs. What may be restricted in one house could be permitted in another. Therefore, it is advised that you consult with your family and extended family before you start preparing your food.


Here's wishing you all a very Happy Navratri 2018!