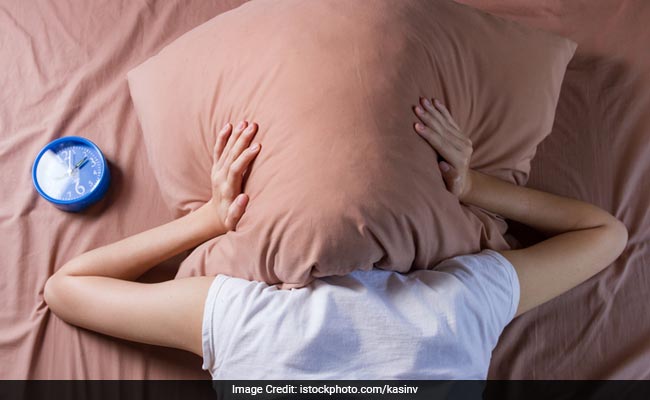 Highlights
A sound sleep at night ensures a healthy body and a healthy mind
less than eight hours of sleep is associated with negative thoughts
The team of researchers examined the timing and duration of sleep
'All work and no sleep makes jack a dull boy', might as well be an aphorism warning people about the side effects of depriving themselves of sleep. The body repairs and rejuvenates during the time that we are asleep and snoozing for a few hours is important for the brain and bodily functions to work optimally. However, did you know that less sleep can also result in mental health issues like depression and anxiety? According to a study published in the Science Direct Journal, getting less than eight hours of sleep is associated with repetitive negative thoughts like those seen in anxiety or depression.
The researchers who conducted the study explained that people have some tendencies to have thoughts that get stuck in their heads and their elevated negative thinking makes it difficult for them to disengage with the negative stimuli. While other people may be able to receive negative information and move on, the participants had trouble ignoring it. The team of researchers examined the timing and duration of sleep in individuals with moderate to high levels of repetitive negative thoughts.
For the study, the participants were exposed to different pictures intended to trigger an emotional response and the researchers tracked their attention through their eye movements. The findings of the study also indicated that regular sleep disruptions are associated with difficulty in shifting one's attention away from negative information that indicates that sleep is a part of what makes negative thoughts stick around and interfere with people's lives.
A disrupted sleep may be a cause of worry; considering it can not only lead to negative thoughts, but also various health problems. Therefore, it is necessary to get a good night's sleep. We suggest some foods that will help you get some good sleep at night.
1. Banana
Bananas are known to bring you a satisfying sleep as they contain magnesium and potassium both of which are natural muscle relaxants. They are also packed with good carbs that make you feel sleepy.
2. Cherries
You read it right. A bowlful of cherries may send you off to sleep. They are one of the few natural foods that contain melatonin, which a hormone produced by the pineal gland in the brain. It regulates your sleep and wake cycles and control the internal body clock.
3. Almonds
Almonds are dense with magnesium that will help you get some good sleep. It also regulates your blood sugar levels while sleeping.
4. Honey
Having a tablespoon of honey can get you a good night's sleep. The natural sugars in the magic potion increase the insulin levels in our body and allow tryptophan to enter the brain that releases chemicals that relax the body.