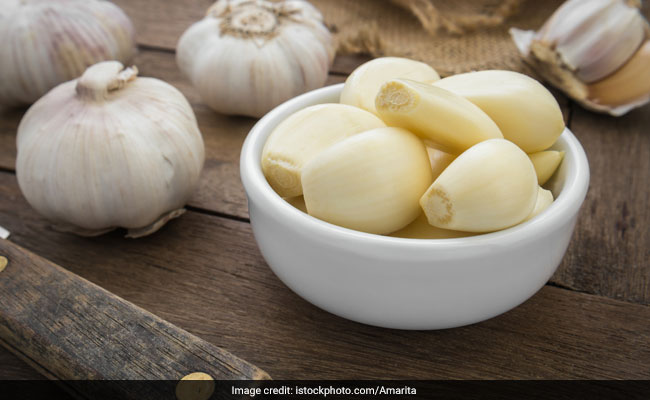 Hypertension or high blood pressure is a condition in which force of the blood against the artery walls in too high. It is becoming one of the diseases that could turn fatal. If remained untreated or not managed, it may up the chances of many heart diseases. It is best to manage high blood pressure through a healthy diet. In fact, it is said that garlic or lehsun is known to be one of the best ingredient to help keep your blood pressure in check. It not only provides a rich flavour to the delicacies, but also is said to have shown quite positive results in boosting overall health. All of the beneficial effects of garlic have been attributed to its sulphur-containing compounds like allicin, diallyl disulphide, and others, of which allicin is mainly responsible for the pungent odour of the spice. Here's why garlic can help keep your blood pressure levels stable and a guide to how to use it to manage hypertension.
Garlic for hypertension | Benefits of garlic for high blood pressure
Here are a few reasons that make garlic one of the best ingredients to manage high blood pressure or hypertension.
According to the book Healing Foods by DK Publishing, the sulphur in garlic stimulates nitric oxide production in blood vessels. This relaxes and improves their elasticity, helping lower blood pressure and further reducing the risk of strokes and atherosclerosis (hardening of the arteries).
According to the study published in the Annals of Pharmacolotherapy, use of garlic was associated with a decrease in the blood pressure among patients with elevated systolic blood pressure. More studies that were published in European Journal of Clinical Nutrition, BMC Cardiovascular Disorders, mentioned that garlic has positive effects on high blood pressure.
Allicin in garlic is said to be a reactive compound. It is an active ingredient associated with garlic's blood-pressure lowering effect, especially in those who have high blood pressure and hypertension.
The body is said to increase the production of an enzyme known as angiotensin I-converting enzyme, or ACE, which results in the increase in high blood pressure. Garlic contains gamma-glutamylcysteine, a natural ACE inhibitor. This chemical combines with allicin to give garlic its ability to dilate arteries, thereby lowering blood pressure.
(Also Read: 7 Ingenious Ways To Get Rid Of Bad Breath From Onion And Garlic)
How to use garlic to manage blood pressure or hypertension
According to the study published in the European Journal of Clinical Nutrition, those people who took either 480 mg or 960 mg of garlic showed a significant reduction in systolic blood pressure. One of the best ways is to dice up one fresh garlic clove daily and add it to your dishes daily. Some health experts suggest eating a clove or two first thing in the morning for a few days or weeks. Best is to consult a doctor before switching to this home remedy. While garlic may be a great ingredient to help boost your overall health, it shouldn't be used as a substitute for standard care of high blood pressure.
(Also Read: Here's Why You Should Start Your Day With Raw Garlic And Water)
Precautions
Garlic is said to be a natural blood thinner, and taking it in combination with blood thinning medications can be risky. Make sure you consult a doctor to avoid complications.
Disclaimer: This content including advice provides generic information only. It is in no way a substitute for qualified medical opinion. Always consult a specialist or your own doctor for more information. NDTV does not claim responsibility for this information.