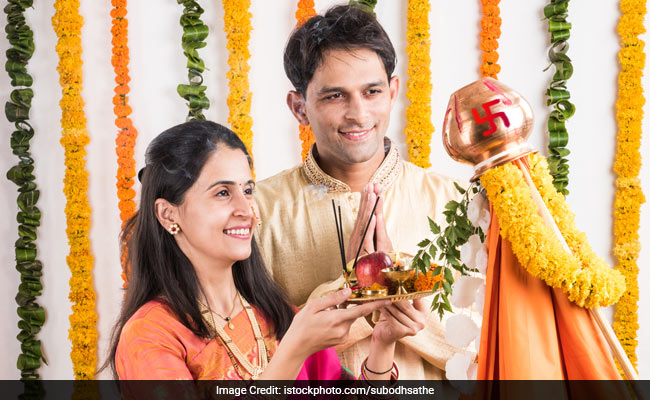 Gudi Padwa is a popular festival celebrated in Maharashtra and the Konkan region. This year, Gudi Padwa will be observed on 18th March, 2018 along with Chaitra Navratri. As per the Hindu lunisolar calendar, Gudi Padwa is considered as the New Year and is celebrated with much fervour. Other states including Karnatak and Andhra Pradesh celebrate it as Ugadi. On the other hand, in Tamil Nadu, this festival is known as Puthandu, in Assam as Bihu, Naba Barsha in West Bengal, Pana Sankranti in Orissa and Vaisakhi in Punjab- which are celebrated about a month later.
It is believed that this day marks the beginning of a cycle of 60 years and each year is identified by a unique name. On this day, people celebrate by decorating their homes with rangoli and flowers signifying the onset of harvest and spring season. Gudi Padwa or Ugadi commences with the eating of a specific mixture known as Bevu-Bella that comprises neem and jaggery, which symbolises that life is a mix of both- good and bad, joy and sorrow and that we must accept both with grace.
No festival is complete without bingeing on traditional feasts and Gudi Padwa or Ugadi is nothing different.

Here are some traditional Maharashtrian dishes that are savoured during Gudi Padwa.
1. Puranpoli
No Maharashtrian festival is complete without savouring puranpoli. This delicacy is a flatbread stuffed with the goodness of jaggery and chickpeas, cardamom, saffron and nutmeg. Here's a recipe of puranpoli you'd love to try.
2. Shrikhand
Shrikhand is the Indian version of flavoured yogurt, only too delicious and better. It makes for a Gudi Padwa special dessert that is loaded with the flavours of fruits like mangoes, berries and melons along with adding dry fruits to make it rich and heavy. Here is a recipe of shrikhand that you must try making at home on Gudi Padwa.
3. Sabudana khichdi and vada
Sabudana makes for an important part of most Maharashtrian households. People love preparing khichdi using peanuts, ghee and sabudana on this day. While some may like fried sabudana vada, which makes for a popular snack. We help you with both the recipes to enjoy this Gudi Padwa.
4. Aam panna
As Maharashtrians welcome the New Year with Gudi Padwa, they also welcome spring season, which means the onset of mango season. The tangy and sweet aam panna made using boiled raw mango and mixing the pulp with sugar, spices and water makes for an integral part of Gudi Padwa. It also makes for a perfect solution to beat the heat. If you haven't sipped on it yet, this recipe will convince you to do to so.
5. Batatyachi Bhaaji
Batatyachi Bhaaji is a spicy dish made from boiled potatoes, mustard seeds, curry leaves, chilies and asafoetida. This bhaaji is then enjoyed with puri on this special day.
6. Chana Usal
Chana usal is prepared by cooking sprouted and boiled black grams in a host of spices. It is tangy, spicy and crunchy and has a distinctive texture that you can definitely not miss out on. Here's a recipe of usal you must try.
7. Thalipeeth
A multigrain masala roti infused with flavours, thalipeeth makes for an important dish for Gudi Padwa. The dish is not only tasty but is known for its nutritional value. Here's a recipe of thalipeeth you'd love to make and devour during Gudi Padwa.
That's not all; there are more delicacies that are associated with Gudi Padwa. So do tell us what are you preparing on the festival and treating your guests and family with!

Happy Gudi Padwa 2018!