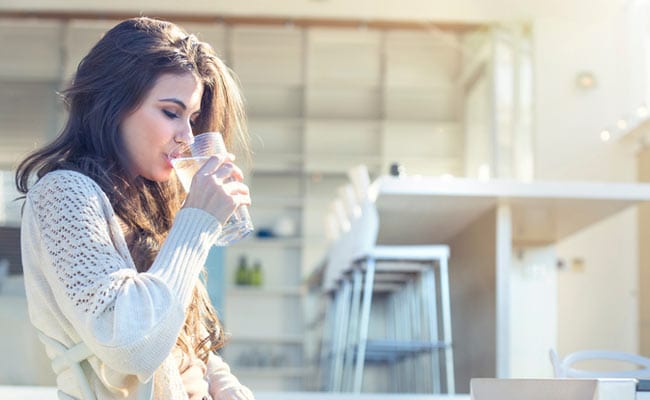 Drinking water is known to have many health benefits; turns out, it may also help keep your bladder health in check. According to a study published in the journal JAMA Internal Medicine, women who drink about an extra litre-and-a-half of water daily are nearly 50 percent less likely to suffer from bladder infections, especially in pre-menopausal stages. As per the researchers, more fluids help to reduce bacteria and limit the ability of bacteria to attach to the bladder. The researchers claim that that study is more important because more than half of all women report having bladder infections, which are one of the most common infections in women.
For the study, the team of researchers focussed on 140 women with recurrent urinary tract infection (UTI), who typically drank fewer than 1.5 litres of fluid that is about six to eight glasses per day. For 12 months, they asked half of these women to continue their usual fluid intake and asked the other half to drink an additional 1.5 litres of water daily.
The findings revealed that about 93 percent of the women who drank additional 1.5 litres of water on a daily basis had two to fewer episodes of cystitis- a type of UTI- while 88 percent of women in the control group had three or more episodes. Further, the researchers noted that more than a quarter of women experience a secondary infection within six months of an initial infection and 44 to 77 percent will have a recurrence within a year. The increased consumption of liquid could also help reduce the use of antibiotics as such infections are typically treated or managed with antibiotics.
Some of the symptoms of cystitis may include painful or difficulty in urination, a feeling of full bladder, an urgency of frequent urination, tenderness in the lower abdominal area, and possibly blood in urine.
Apart from water, here are some other home remedies that you can try in order to avoid infections like UTI.
1. Up your vitamin C intake
Vitamin C is said to work by increasing the acidity of the urine, thereby killing off the bacteria that cause infection. Bring vitamin C-rich fruits and vegetables to your rescue and prevent the growth of bacteria. Include more red peppers, oranges, grapefruit, kiwi and spinach to manage this problem better.
2. Load up on probiotics
Probiotics are important micro-organisms that are consumed through food or supplements. These can promote a healthy balance of the good-bacteria in your gut. Include more kefir, yogurt, kombucha, et al to decrease the chances of getting a bladder infection.
3. Try unsweetened cranberry juice
Drinking unsweetened cranberry juice is said to be one of the most important and effective home remedies for urinary tract infections. Cranberries work by preventing bacteria from growing in the urinary tract, thus preventing infections.
4. Limit alcohol and caffeine intake
Making healthy food choices and cutting down on bad foods can help avoid bladder infections. Cutting down on alcohol and caffeinated drinks like coffee, tea, chocolate and most sodas- may help keep your bladders away from infections.
Make sure you avoid constipation, engage in exercise regularly, quit smoking, keep a healthy weight, wear cotton and loose-fitting undergarments, and keep yourself hygienic to avoid such infections in the future.
Disclaimer: This content including advice provides generic information only. It is in no way a substitute for qualified medical opinion. Always consult a specialist or your own doctor for more information. NDTV does not claim responsibility for this information.