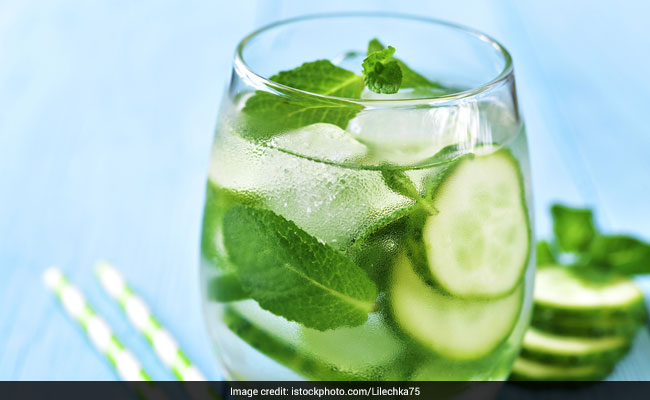 Highlights
Cucumber is an incredibly hydrating and a great detoxifier.
Cucumber can regulate blood pressure and treat bad breath.
Cucumber promotes weight loss due to high fibre content and low calories.
Summers have officially arrived in the Indian subcontinent and we're sure you've started gearing up for long, sweaty days and punishing heat. It's important to take care of your diet during summers as there are certain foods that can ensure you stay cool from inside, while some others may end up aggravating your body and increasing your body heat. Cucumber is a summer must-have, as it is a vegetable that detoxifies your body and also keeps your skin healthy and beautiful.
Here are some benefits of cucumber that it make it a summer essential:
1. Hydrates and Detoxifies Your body
Cucumber is made up of 95 per cent water and hence is super hydrating. It eliminates toxins from the body and keeps you healthy from inside. Cucumber is an effective system cleanser, that can expel waste products.
2. Soothes and Refreshes the skin
Cucumber juice when applied on the face can make you look refreshed. It is especially great for people with dry skin.
3. Reduces Dark Circles
Cucumber slices have been used in many beauty treatments. They are especially effective in reducing dark circles and treating puffiness around the eyes. You can even put grated cucumber on your face for a fresh skin. All you have to do is put them on your eyes for eight to 10 minutes daily.
4. Treats Bad Breath
Not many people know this, but cucumber helps in reducing excess heat in the stomach, which is a primary cause of bad breath. Just holding a piece of cucumber in your mouth can kill the bacteria that cause stinky breath.
5. Complete Beauty Food
Cucumber is a complete beauty food and is not just great for the skin, but also for the nails and hair. Cucumbers can help in reducing tanning and the silica in the vegetable can promote hair growth and make your nails stronger.
6. Promotes Weight Loss
Cucumber is high in fibre and low in calories. Hence it is a great snacking option for people wanting to reduce weight.
7. Regulates Blood Pressure
Owing to its high potassium, magnesium and fibre levels, cucumber is effective in controlling blood pressure.

(With IANS inputs)