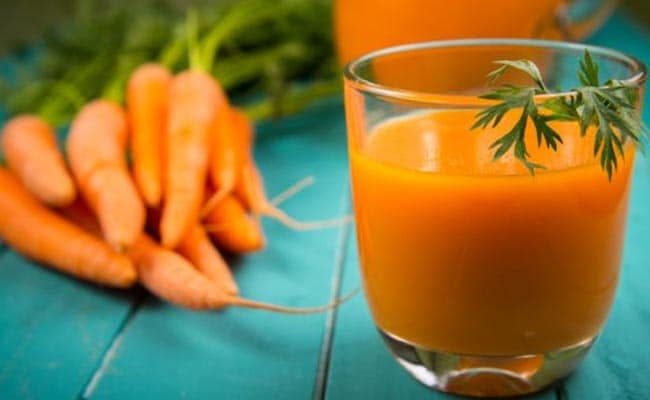 What more can be said about the versatility of the crunchy and ever so delightful carrots? From the decadent 'gajar ka halwa' to a nutritious carrot salad, carrots can steal the show in any avatar. A storehouse of vital minerals and antioxidants, there are plenty of reasons why you should add carrots to your diet today. They are rich in beta-carotene, a compound that helps stimulation of vitamin A. Carrots are also good for heart health, due to their cholesterol fighting abilities. According to the book 'Healing Foods', "carrots also aid digestion, help weight control, contain silicon, which benefits skin and nails, and promote eye health due to their beta-carotene, lycopene and lutein content." One of the reasons why nutritionist and fitness enthusiasts often ask you to include more carrot to your diet is because of its weight loss abilities. While it is best to have carrots raw, juicing carrots is also a good bet for effective weight loss.
How Does Carrot Juice Promote Weight Loss

• High fibre: If you are on a weight loss diet, your diet must include foods that are high on fibre, and carrots with both soluble and insoluble fibres perfectly fit the bill. Fibre takes the longest to digest and thus promotes a feeling of fullness and prevents you from bingeing on other fattening foods.

• Good for digestion: The significant amount of dietary fiber in carrots plays an important role in maintaining good digestive health. A good digestion is crucial for metabolism, which further helps weight loss
How to Make Carrot Juice For Weight Loss:

1. Wash and chop the carrots.
2. Add the chopped carrots to the blender.
3. Add a small amount of filtered water.
4. Blend it well. If you think the consistency of juice is too thick for your liking add more water.
5. Now place a nut milk bag in your desired cup/container and pour the blended juice.

Drink a glass every morning. You can also blend other fruits and veggies with carrot like orange and beetroot to enhance its taste and nutritive value.