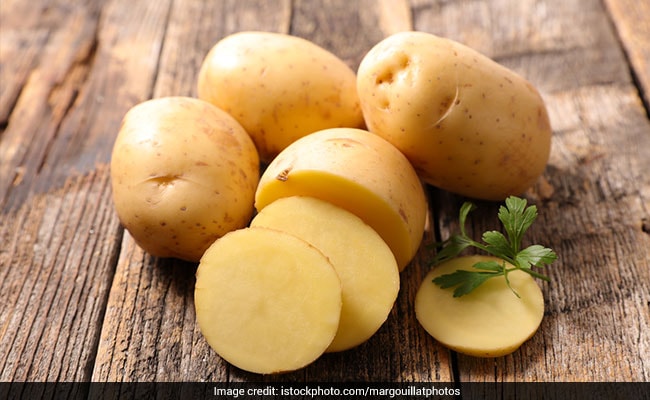 Highlights
Potatoes are considered bad for health and weight
A number of studies have blamed potatoes for weight gain
If you follow a healthy diet potatoes may not lead to weight gain
Potatoes are one of the most loved vegetables out there. In fact, they are one of the most versatile vegetable available in the market. They can be made into French fries, delicious pakoras, tikkis and all kinds of mouth-watering snacks. However, they have a bad rapport among people who are watching their weight. Potatoes are banished from the weight loss diets of many people, who swear potatoes are their nemesis and consuming them hinders weight loss. This is particularly true for people following a weight loss diet which is low in carbohydrates. Not only this, potatoes are also blamed for a number of health problems like high blood sugar or diabetes and hypertension or high blood pressure. It is true that if you have either of these diseases, your nutritionist or doctor will advise you to stay away from consuming potatoes. However, the truth is not as scary as it seems.
(Also Read: 11 Best Potato Recipes | Best Aloo Recipes)
Potatoes are banished from the weight loss diets of many people​ |

Photo Credit: iStock
Potatoes may not be the villains that they are made out to be. However, time and again studies and research has convinced us otherwise. There have been studies which have linked potatoes to weight gain, obesity and rise in levels of blood sugar. But there have been some studies which have taken a more balanced view of this starchy tuber. A 2014 study published in the Journal of American College of Nutrition, looked at two groups of people and observed the weight loss patterns in both. Both the groups followed a low calorie-diet; while one group continued consuming potatoes, the other group banished them from their diets. The researchers observed that the consumption of potatoes did not have any effect on weight loss in the group.
(Also Read: How To Store Potatoes? 5 Ways To Increase The Shelf Life Of This Versatile Veggie)
Potatoes may help you in weight loss because they have a rich nutritional profile
Do Potatoes Hinder Weight Loss?
If you generally follow a healthy diet and stay away from excessive consumption of junk foods, consuming potatoes may not lead to weight gain. In fact, potatoes- both white and sweet potatoes- may help you in weight loss because they have a rich nutritional profile. They are both rich in Vitamin C, which is essential for boosting immunity. Moreover, they are great sources of healthy carbohydrates, protein and fibre. A 100 gm portion of white potatoes contains 77 calories, 2 gm of protein and 2 gm of fibre, according to data by United States Department of Agriculture. They also contain good amounts of potassium, which is essential for building muscle and regulating blood pressure. They are very low in fats and are incredibly filling as well.
So the final verdict is- potatoes may not lead to weight gain or impede weight loss if consumed along with a low-calorie and healthy diet. Moreover, it is essential to cook potatoes in a proper and healthy way, in order to avoid adding calories and unhealthy fats to them. Boiling or baking potatoes, along with healthy fats like olive oil, may be the way to go, if you're trying to lose weight.
Disclaimer: This content including advice provides generic information only. It is in no way a substitute for qualified medical opinion. Always consult a specialist or your own doctor for more information. NDTV does not claim responsibility for this information.