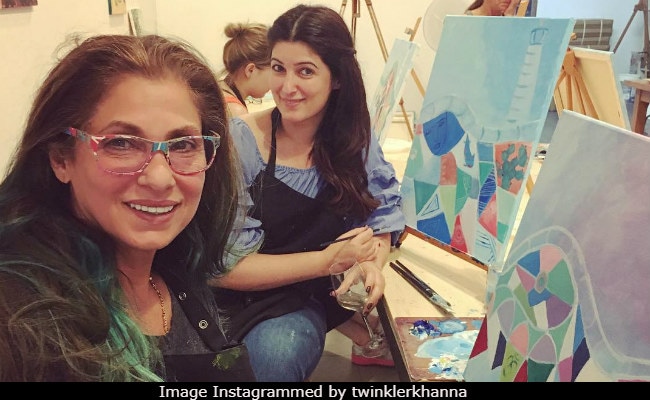 Highlights
"I discovered the reason behind her peculiar philosophy," said Twinkle
"I have spectacularly failed as an actor," she added
"I moved on and here I am today," said Twinkle
New Delhi:
Twinkle Khanna addressing her brief acting career in self-directed jokes, one-liners and puns is not new. Almost a year ago, she tweeted to notify she's not returning to her
"legendary acting skills,"
and also telling NDTV at some point: "I have no acting skills! You need acting skills to act, not intelligence." The mantra to not take failure to heart is to not attach too much importance to success, she said at a recent event in Mumbai, reported IANS. Twinkle Khanna did just that and a big help was her mother, actress Dimple Kapadia's "peculiar philosophy" of parenthood. Twinkle Khanna is the daughter of actors Rajesh Khanna and Dimple Kapadia.
Sharing an incident from when she was still a student, Twinkle said: "When I came to her (Dimple Kapadia) as a plump nerd with my exam results and said look, 'I got 97 per cent in Mathematics', she said it matches your weight." Twinkle was quickly directed to the thought, which she also shared with her mother: "What is the point in having such mother!"
"But over the years, I discovered the reason behind her peculiar philosophy of raising me. When you don't take success very seriously, it is easier to shrug-off your failure," Twinkle added. Twinkle Khanna made her debut in 1995's
Barsaat
and wrapped her acting career with 2001's
Love Ke Liye Kuch Bhi Karega
. In between, she's also starred in films like
Baadshah
and
Mela
but nothing really turned out to be a breakthrough project.
Twinkle added that her initial career decisions were inspired by her parents and it
took her a while to consider switching fields
. "When I finished 12th, I wanted to become a chartered accountant. But both my parents were in the entertainment business, they were keen I follow their footsteps and I did. But 8 years later, I came to the conclusion that I have spectacularly failed as an actor. Though this was a bit disheartening, I wasn't shattered... I moved on and here I am today," IANS quoted her as saying.
She's now a best-selling author and has two books on her resume - Mrs Funnybones and The Legend Of Lakshmi Prasad. She is also producing her husband Akshay Kumar's new movie
Padman
under her production firm Mrs Funnybones Movies. Twinkle Khanna is also a successful interior designer.
(With IANS inputs)