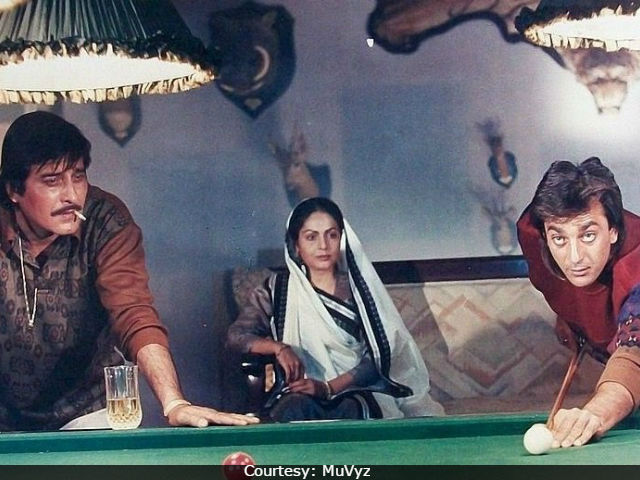 Highlights
"Big loss to the fraternity. He will always be family," said Sanjay Dutt
"He was always a thorough gentleman," said Sanjay Dutt
Mr Khanna died of bladder cancer in Mumbai
New Delhi:
"
Vinod Khanna will always be family
," said actor Sanjay Dutt on Thursday after Mr Khanna died of bladder cancer in a Mumbai hospital. He was 70. Mr Khanna appeared in several films with Sanjay Dutt's father Sunil Dutt, including 1968's
Man Ka Meet
which was Vinod Khanna's debut. In the 1970s, they appeared in
Reshma Aur Shera, Nehle Pe Dehla
and
Daku Aur Jawan
. In the early 90s, they co-starred in two similarly-themed films -
Kshatriya
, in which Sanjay Dutt, also appeared, and
Parampara
. In a statement released after Vinod Khanna's death, Sanjay Dutt said, "
It is saddening to hear of the demise of Vinod Khanna ji
. I have watched him as a child and throughout my life was always fascinated by his style and charisma. He was always a thorough gentleman. A big loss to the fraternity. He is and always will be family to the Dutts. May his soul rest in peace."
The film fraternity is grieving for Vinod Khanna
, who co-starred with many of his contemporaries -
Amitabh Bachchan, Rajinikanth, Shatrughan Sinha, Rishi Kapoor
and others. He also worked with several actors junior to him, including all three Khans - with Aamir in the aforementioned
Parampara
(also starring Saif Ali Khan), he played Salman's father in the
Dabangg
films, and Shah Rukh Khan's 2015 release
Dilwale
was his last screen appearance.
Vinod Khanna, who joined the BJP in 1997, had been ill for a while and was taken to hospital on March 31. His family insisted he was being treated for dehydration and improving. However, a photo of the actor looking unrecognisably gaunt that was circulated on social media prompted concerns that Mr Khanna was dangerously ill. After his death, the hospital revealed that he had been suffering from cancer.
Vinod Khanna is survived by wife Kavita, sons
Rahul, Akshaye and Sakshi, and daughter Shraddha.