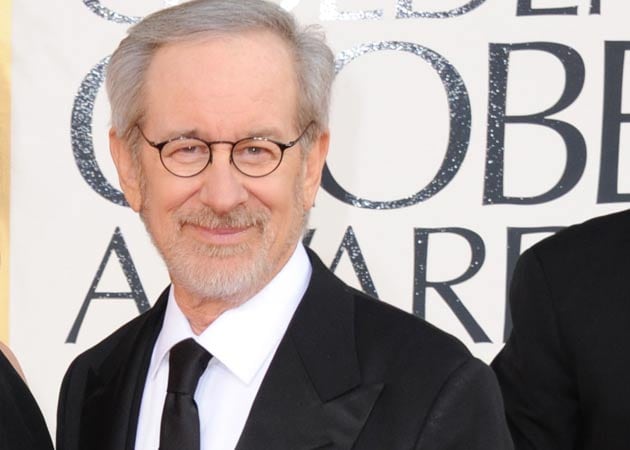 Highlights
It's almost impossible to not know who Steven Spielberg is. And for some lucky Indian directors, the dream of meeting and knowing him better is about to come true. It turns out that the celebrated Hollywood filmmaker will interact with about 60 personalities from Indian cinema and share tips on filmmaking.
Mr Spielberg, who is known for films like Schindler's List, Saving Private Ryan, ET, Jaws and Jurassic Park, is making his maiden trip to India. This development is a direct result of his association with Anil Ambani. The industrialist's entertainment production house has a tie-up with the American's film studio. In fact they both produced the much-acclaimed Lincoln, amongst other films. Fittingly enough, a special party in his honour has been organised on the March 12 where Spielberg shall be meeting the who's Who of Indian film industry.
What's more interesting about this event is that Spielberg would have an interactive session with a room full of directors from the country who have already confirmed their presence. A well-placed source says, "It can easily be called as master class session wherein Steven Spielberg will be imparting knowledge to Indian directors and would be learning from them as well and the list includes the biggest of names like Rajkumar Hirani, Anurag Kashyap, Farhan Akhtar, Zoya Akhtar, Abhishek Kapoor, Habib Faisal, Ram Gopal Varma, Sanjay Leela Bhansali, Farah Khan to name a few." And the invitation goes to...
1. Abhay Chopra
2. Abhishek Kapoor
3. Anurag Kashyap
4. AR Murgadoss
5. Ashutosh Gowarikar
6. Ayaan Mukherjee
7. R Balki
8. Bejoy Nambiar
9. David Dhawan
10. Farah Khan
11. Gauri Shinde
12. Habib Faisal
13. Homi Adajania
14. Indra Kumar
15. Javed Akhtar
16. Kabir Khan
17. Kapil Chopra
18. Karan Bhutani
19. Karan Johar
20. Karan Shah
21. Kiran Rao
22. Kunal Deshmukh
23. Kunal Kohli
24. Madhur Bhandarkar
25. Mahesh Bhatt
26. Milan Luthria
27. Nagesh Kukunoor
28. Nishikant Kamath
29. Onir
30. Padmashri Priyadarshan
31. Prabhudeva
32. Prasoon Joshi
33. Rahul Bhatt
34. Rajkumar Gupta
35. Rajshree Ohja
36. Raju Hirani
37. Rakesh Roshan
38. Rakeysh Omprakash Mehra
39. Ramesh Sippy
40. Ram Gopal Varma
41. Reema Kagti
42. Renzil D'Silva
43. Rohan Sippy
44. Rohit Dhawan
45. Rohit Shetty
46. Sajid Khan
47. Sanjay Leela Bhansali 48. Shimit Amin
49. Shoojit Sircar
50. Shyam Benegal
51. Sriram Raghavan
52. Subhash Ghai
53. Sudhir Mishra
54. Sujoy Ghosh
55. Tigmanshu Dhulia
56. Vikas Bahl
57. Vikram Bhatt
58. Vikramaditya Motwane
59. Vipul Shah
60. Vishal Bhardwaj
61. Zoya Akhtar
Mumbai:
It's almost impossible to not know who Steven Spielberg is. And for some lucky Indian directors, the dream of meeting and knowing him better is about to come true. It turns out that the celebrated Hollywood filmmaker will interact with about 60 personalities from Indian cinema and share tips on filmmaking.
Mr Spielberg, who is known for films like
Schindler's List, Saving Private Ryan, ET, Jaws
and
Jurassic Park
, is making his maiden trip to India. This development is a direct result of his association with Anil Ambani. The industrialist's entertainment production house has a tie-up with the American's film studio. In fact they both produced the much-acclaimed Lincoln, amongst other films. Fittingly enough, a special party in his honour has been organised on the March 12 where Spielberg shall be meeting the who's Who of Indian film industry.
What's more interesting about this event is that Spielberg would have an interactive session with a room full of directors from the country who have already confirmed their presence. A well-placed source says, "It can easily be called as master class session wherein Steven Spielberg will be imparting knowledge to Indian directors and would be learning from them as well and the list includes the biggest of names like Rajkumar Hirani, Anurag Kashyap, Farhan Akhtar, Zoya Akhtar, Abhishek Kapoor, Habib Faisal, Ram Gopal Varma, Sanjay Leela Bhansali, Farah Khan to name a few."And the invitation goes to...
1. Abhay Chopra
2. Abhishek Kapoor
3. Anurag Kashyap
4. AR Murgadoss
5. Ashutosh Gowarikar
6. Ayaan Mukherjee
7. R Balki
8. Bejoy Nambiar
9. David Dhawan
10. Farah Khan
11. Gauri Shinde
12. Habib Faisal
13. Homi Adajania
14. Indra Kumar
15. Javed Akhtar
16. Kabir Khan
17. Kapil Chopra
18. Karan Bhutani
19. Karan Johar
20. Karan Shah
21. Kiran Rao
22. Kunal Deshmukh
23. Kunal Kohli
24. Madhur Bhandarkar
25. Mahesh Bhatt
26. Milan Luthria
27. Nagesh Kukunoor
28. Nishikant Kamath
29. Onir
30. Padmashri Priyadarshan
31. Prabhudeva
32. Prasoon Joshi
33. Rahul Bhatt
34. Rajkumar Gupta
35. Rajshree Ohja
36. Raju Hirani
37. Rakesh Roshan
38. Rakeysh Omprakash Mehra
39. Ramesh Sippy
40. Ram Gopal Varma
41. Reema Kagti
42. Renzil D'Silva
43. Rohan Sippy
44. Rohit Dhawan
45. Rohit Shetty
46. Sajid Khan
47. Sanjay Leela Bhansali48. Shimit Amin
49. Shoojit Sircar
50. Shyam Benegal
51. Sriram Raghavan
52. Subhash Ghai
53. Sudhir Mishra
54. Sujoy Ghosh
55. Tigmanshu Dhulia
56. Vikas Bahl
57. Vikram Bhatt
58. Vikramaditya Motwane
59. Vipul Shah
60. Vishal Bhardwaj
61. Zoya Akhtar