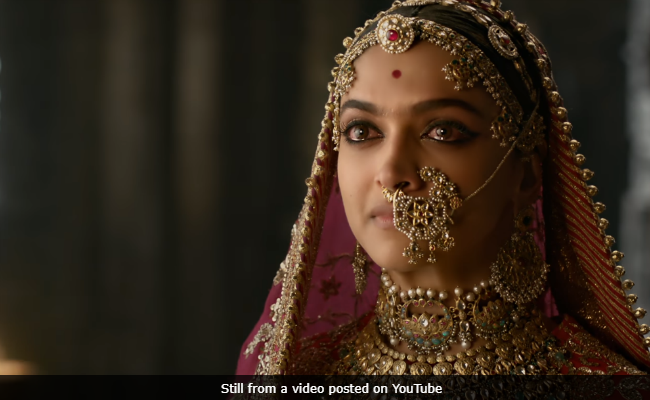 Highlights
The Padmavati controversy started in January
The release of Padmavati has been deferred
Rajput outfits have issued death threats for Deepika and Mr Bhansali
New Delhi:
Deepika Padukone's
Padmavati
, with no concrete release date in sight, is facing stiff opposition from fringe Rajput outfits and political parties over the content of the film. The protesters are adamant that director Sanjay Leela Bhansali's film distorts historical fact by depicting romance between Rani Padmni (Deepika Padukone) and Alauddin Khilji (Ranveer Singh) - the latter invaded the fort of Chittor compelling the queen to perform
jauhar
. Mr Bhansali and the film's lead actors have maintained that there are no scenes - dream sequence included - between Rani Padmini and Khilji. From set vandalism to beating up the directoe and now issuing death threats to lead star Deepika Padukone and director Bhansali, the controversy is everywhere.
Here's the timeline of
Padmavati
controversy till now:
January 2017:
Members of the Karni Sena barge into the sets of
Padmavati
and vandalise the property. Director Sanjay Leela Bhansali was slapped and his hair was pulled at the Jaigarh Fort. "We had warned the filmmaker against presenting wrong facts. When we came to know about the shooting, we gathered there and protested," said a leader of the group, Narayan Singh.
March 2017:
Karni Sena members vandalise Padmni Mahal in Chittor Fort. They alleged that the mirrors were place 50 years ago and it misrepresents the story of Queen Padmini
September 21, 2017:
The first posters of
Padmavati
, featuring actress Deepika Padukone are released on social media.
September 21, 2017:
: Karni Sena activists
issue fresh threats
over the content of
Padmavati
. An activist told IANS: "We will not allow distorted facts to be shown in the film at any cost, and will see to it that the film is not screened in half of India. They are trying to defame Padmavati by distorting historical facts. It is not acceptable."
September 24, 2017:
Posters of
Padmavati
burned outside Jaipur's Rajmandir Cinema Hall
. Protestors threaten they won't allow the film to release. "We want him to show the film to the core committee of Shri Rajput Karni Sena and various organizations, including historians, before releasing it. Till then we will not allow the film to be released," Narain Singh Divrala, the district president of Karni Sena told IANS.
September 25, 2017:
Posters of Shahid Kapoor as Maharawal Ratan Singh release on social media.
October 3, 2017
: New posters of Ranveer Singh as Alaudin Khilji released on social media.
October 9, 2017
: The trailer of
Padmavati
releases on social media.
October 16, 2017
: As
rangoli
inspired form Deepika's
Padmavati
poster made by a Surat artist was destroyed. It took 48 hours to make.
#padmavati Rangoli Controversy!
A crowd of 100 people cried JAY SRI RAM AND rubbed out my 48hrs' intense work! Shocked!@RanveerOfficialpic.twitter.com/0yWbE7Jqfa

— KARAN K. (@KARANK19522136) October 16, 2017
October 18, 2017
: Deepika Padukone asks Information and Broadcast minister Smriti Irani to take action against those who vandalized the
rangoli
.
this has to stop NOW & action must be taken! @smritiiranipic.twitter.com/o5RGhDTHPJ

— Deepika Padukone (@deepikapadukone) October 18, 2017
October 25, 2017:
The filmmakers release the first song of
Padmavati
titled
Ghoomar
.
October 26, 2017:
Former Congress leader
Shankersinh Vaghela demands a pre-release screening
of movie
Padmavati
for Hindu and Kshatriya community leaders to check whether facts have been distorted in the film and warned of violent protests if its makers failed to do so.
November 2, 2017:
BJP writes to the Election Commission
seeking a ban on release of
Padmavati
till after the Gujarat Assembly elections on December 9 and 14. Congress wants the film to be banned.
November 4, 2017:
Union Minister
Uma Bharti
suggests forming a committee with historians, the filmmaker, the protesters and the censor board and deciding on it.
November 6, 2017:
Mumbai BJP General Secretary Amarjeet Mishra seeks Smriti Irani's intervention to stop the release of
Padmavati
November 8, 2017:
BJP lawmaker from Ujjain,
Chintamani Malviya posts
against Mr Bhansali on Facebook, writes: "People like Bhansali do not understand any other language. People like him only understand the language of shoes. This country will not disrespect Rani Padmavati."
November 8, 2017:
BJP's
Divya Kumari
, whose grandfather was the last ruler of Jaipur, calls for a ban on the film's release. "The women of Rajasthan are very upset with this film made on a queen who is the epitome of sacrifice."
November 9, 2017:
Sanjay Bhansali releases statement saying "There is no interaction whatsoever between the characters played by Deepika and Ranveer."
November 10, 2017:
A member of Censor Board who is also a BJP leader writes to Home Minister Rajnath Singh demanding that Mr Bhansali be tried for treason.
Supreme Court refuses to stay release of
Padmavati
November 11, 2017:
New song from
Padmavati
titled
Ek Dil Ek Jaan
(picturized on Deepika and Shahid) releases on the Internet.
November 12, 2017:
Rajput community stage protest in Gandhinagar, Surat against the film.
A protest was also staged outside Mr Bhansali's Mumbai office
November 13, 2017:
Shahid Kapoor talks to media at an event an appeals to the protestors: "Give the film a chance"
November 14, 2017:
Deepika Padukone's comments on
Padmavati
row goes viral. She said, "It's appalling, it's absolutely appalling. What have we gotten ourselves into? And where have we reached as a nation? We have regressed." Deepika was severely trolled for her comment.
November 14, 2017:
Rajput outfit members vandalise a theatre which screened the trailer of
Padmavati
in Delhi.
November 15, 2017:
Heena Singh Judeo, daughter-in-law of Dilip Singh Judeo of Chhattisgarh's former royal family, joins debate. "History has witnessed that none of the Rajput maharanis has ever danced in front of anyone, and they cannot play with history."
Censor Board chief Prasoon Joshi clarifies that CBFC hasn't seen the film as of that date.
Protest reaches Bengaluru.
November 16, 2017:
Deepika Padukone gets additional security and Karni Sena calls for nation-wide strike on December 1
November 17, 2017:
Shashi Tharoor takes on
Padmavati
critics, then issues a clarification. Fringe group block entry to Chittorgarh Fort.
Padmavati
screened for a group of journalists, who defended the film saying: "Not a single dialogue, not a single scene, not a single sequence can be said to go against the proud history of the Rajputs of Rajasthan."
November 17, 2017:
The Central Board of Film Certification sends
Padmavati
back to filmmakers saying that its application was "incomplete."
November 18, 2017:
Vasundhara Raje asks Smriti Irani to delay
Padmavati
release
Shabana Azmi urges film industry to 'boycott goa fest' (the International Film festival Of India, which started on November 20) over
Padmavati
row.
Entry to Kumbhalgarh Fort also blocked by protestors
November 19, 2017:
Padmavati
makers defer film's release as protests intensify. "Viacom18 Motion Pictures, the studio behind
Padmavati
, has voluntarily deferred the release date of the film from December 1st 2017," read a statement.
November 19, 2017:
Haryana BJP Leader supports call to behead Deepika Padukone and Sanjay Leela Bhansali. "I want to congratulate the young man from Meerut for announcing Rs. 5 crore bounty for beheading Deepika, Bhansali. We will reward the ones beheading them with Rs. 10 crore, and also take care of their family's needs," said
Suraj Pal Amu
.
November 20, 2017:
Deputy Chief Minister Keshav Prasad Maurya bans the film's release in Uttar Pradesh unless the "controversial portions" are removed.
November 20, 2017:
Supreme Court refuses to stay release of
Padmavati
. Since the CBFC is yet to clear the film, the top court said it will amount to 'prejudgement' if the release is stalled now.
CBFC turns down producers' request for a quick review of the film.
Chief Minister Shivraj Singh Chouhan announced
Padmavati
's ban in Madhya Pradesh.
West Bengal chief minister Mamata Banerjee says
Padmavati
controversy is a "calculated plan of a political party to destroy the freedom to express ourselves"
November 21, 2017:
A Madhya Pradesh theatre screens
Padmavati
trailer, Karni Sena creates rukus
Security provided to Deepika Paudkone's family in Bengaluru
Sources reveal
Padmavati
's release date has been shifted to 2018.
Kamal Haasan condemns the controversy and says, "I want Deepika's head saved."