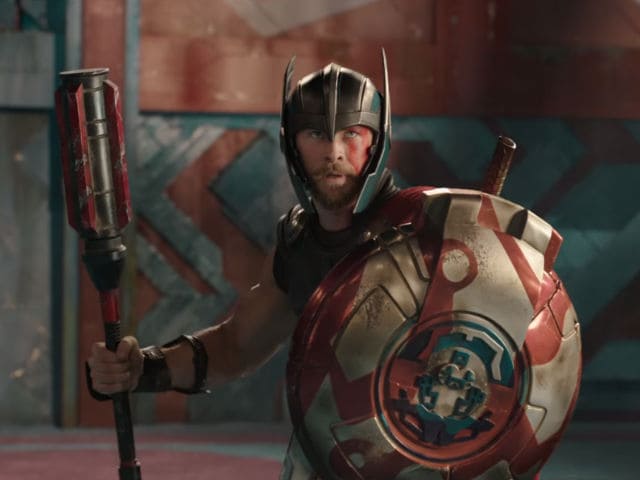 Highlights
Cate Blanchett as Hela is pretty impressive
Chris Hemsworth's new Thor look also debuts in the teaser
Hulk returns but he is not in a friendly mood
New Delhi:
The teaser of
Thor: Ragnarok
makes sure you are gasping for breath after it is over.
Cate Blanchett could not have got a better entry
to the
Thor
series as Hela. She stops Thor's (played by Chris Hemsworth) hammer, Mjolnir using just one hand, she smiled and crumbled it into pieces, much to our shock and that of Thor's. Soon after being tossed out of Asgard, the demi-god finds himself in Sakaar and there he is put in a gladiator arena to fight - wait-for-it - 'the incredible Hulk.' Thor's happy to learn that his contender is a 'friend from work.' But Hulk's one grunt explains that this battle won't be easy.
Thor is trapped, chained is surrounded by enemies in the new teaser of
Thor: Ragnarok
. He is left to battle unknown forces without Mjolnir. That's like Steve Rogers fighting enemies without Captain America's shield or Tony Stark minus his Irom Man suit.
Watch the teaser of
Thor: Ragnarok
here:
Mind = Blown.
The trailer also introduces Tessa Thompson as Valkyrie, Idris Elba as Heimdall, Jeff Goldblum as Sakaar's Grandmaster and Tom Hiddleston returns as Loki.
Mark Ruffalo reprises the role of Hulk, who left the Avengers after the events of
Age Of Ultron
. He wasnt there in
captain America: Civil War
too, remember? This part of the storyline seems to be inspired from
Planet Hulk
comic in which The Hulk reaches Sarkaar and has to fight in the gladiator arena.
Meanwhile,
Thor's new look also debuts
in the teaser and though we love Chris Hemsworth's golden locks, this hairstyle too makes him look quite dashing.
Thor: Ragnarok
is slated to release in November this year.