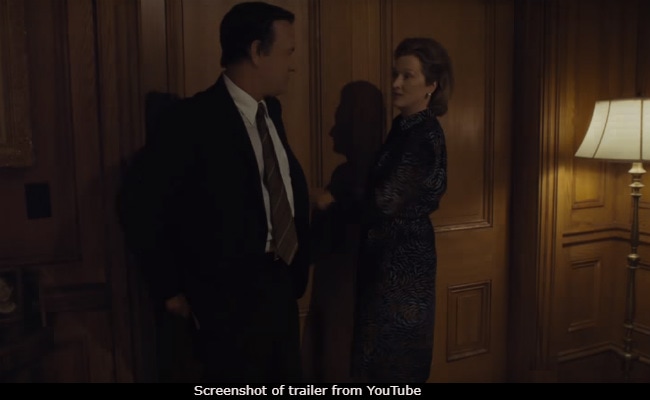 Highlights
The Post releases in the US in December
The film's cast is headlined by Meryl Streep and Tom Hanks
The movie's been directed by Steven Spielberg
New Delhi:
It was June 1971 when The New York Times published pages of documentary material from the Pentagon's secret archives about the Vietnam War. This breaking development led two top bosses of The Washington Post to silently carry on with their investigative journalism on the Pentagon Papers, which were later published by Katherine Graham - the publisher of The Washington Post at that time. This is exactly what the new trailer of Steven Spielberg's
The Post
deals with. Headlined by Meryl Streep (Katherine Graham) and Tom Hanks (The Washington Post's chief editor Ben Bradlee), Steven Spielberg's new investigation drama is "based on a true story," says the trailer.
Katherine Graham or Kay was also the first woman to head a major US publication. The trailer shows, overheard in the newsroom were statements like: "People are concerned about having a woman in charge of the paper. That she doesn't have the resolve to make the tough choices. But she risked her entire career and the legacy of a trusted newspaper to let out the secrets of what has been seen as one of the biggest US scams.
The publishing of the Pentagon Papers, which were locked up for over three decades and four presidencies, could send The Washington Post bosses to prison but the risk was worth it, the trailer reveals. Towards the end of the trailer, The Washington Post editor Ben Bradlee and Ms Graham came to the realisation: "If the government wins, The Washington Post will cease to exist."
The Post
has zeroed in actors from both TV and Hollywood, including names like Bob Odenkirk, Carrie Coon and Zach Woods, each cast in appropriate roles.
Watch the trailer of
The Post
here:
The Post
is scheduled to arrive in theatres on December 22 in the US and is slated to release in other places on January 12, 2018.