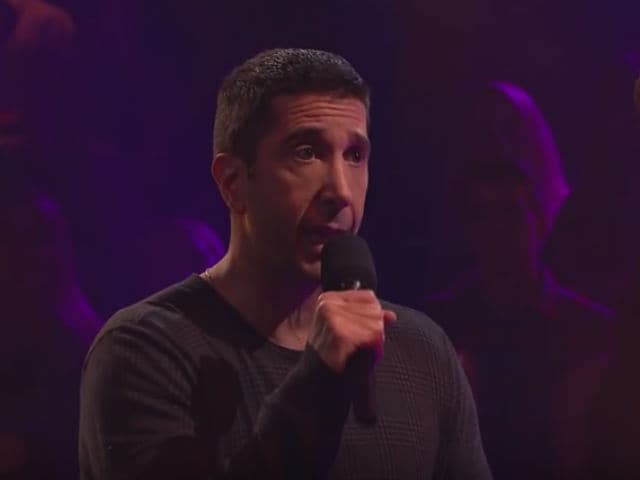 Highlights
David Schwimmer vs James Corden in rap battle on The Late Late Show
The winner was surprise entrant Rebel Wilson
David will be soon seen in TV series, Feed the Beast, starting June 5 on
That's what F.R.I.E.N.D.S are for – not. Actor David Schwimmer went up against The Late Late Show's James Corden in the rap battle segment 'Drop the Mic.' Who shredded whom? James Corden got the first insults in by referring to peak Ross – "millennials, he was famous in 1995" – and maybe he really shouldn't have said "I'm going to you ignore you like Jennifer Aniston does your calls," because that's when the 49-year-old actor got really serious.
James was clearly short of lines when David threw shade with: "A Brit in America's your one claim to fame / We all know as an actor your roles were all the same." "The heavy best friend, the humorous sidekick / With a belly so big…" – you get it. "I'm tall and lean, you're short and stout. They know me in Japan, they know you at In-N-Out. You embarrassed your country, this was easy for me. B***h, lay down the mic and go make me some tea," the actor rapped.
Mic. Dropped? Not yet. The winner of the rap battle was surprise contestant Rebel Wilson and you're going to have to watch the video to see why. David will be soon seen in
Feed the Beast
TV series which will premiere on June 5 on AMC.
Watch David Schwimmer vs James Cordon vs Rebel Wilson here. (Disclaimer: Contains adult content, viewer discretion advised)