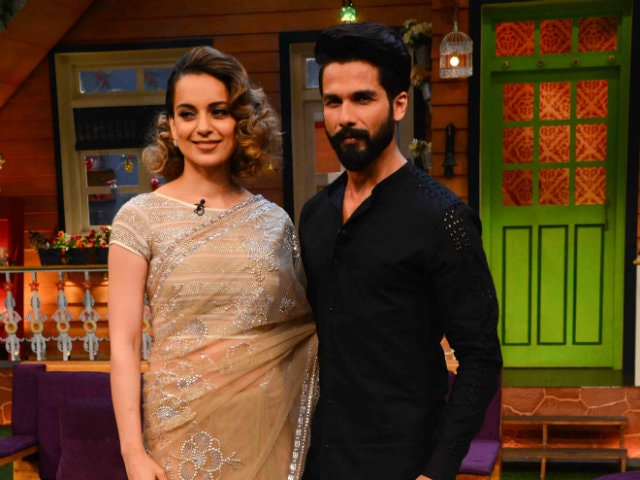 Highlights
'Kangana makes up things in her head,' said Shahid
'She has a vivid imagination,' he added
'That line he must have borrowed from Hrithik,' Kangana retorted
New Delhi:
Kangana Ranaut has
never abstained from making explosive remarks
, and recently, Shahid Kapoor appears to be the subject of her many statements. Shahid and Kangana are co-stars of
Rangoon
, which also stars Saif Ali Khan as one third of a love triangle. Kangana recently described her
experience of kissing Shahid as 'tragedy,'
and added that he had a cold when a particular scene was shot. Shahid defended himself saying all this is part of her "vivid imagination," which prompted Kangana to state that Shahid must have borrowed his words from her rumoured ex Hrithik Roshan. It all started when earlier last year, Kangana said she was the "third hero" of
Rangoon
.
Here's a round-up of the Kangana and Shahid cold war.
In an interview with
DNA
, Kangana
shared details about shooting with Shahid
and said kissing the actor was "tragedy of different level." She told
DNA
: "I don't like intimate scenes in a film. They are the most difficult to shoot. You have a formal equation with someone and suddenly you are into each other's mouth. That big moustache of Shahid is horrible. It was such a ... Not a turn-off but a tragedy of different level! When I asked him about it, he said he applies wax and has a running nose!
Mera naak isme bah ke jaata hai
." Shahid, who only recently was made aware of Kangana's remarks, also told
DNA
: "I have to tell you that Kangana makes up things in her head.
She has a vivid imagination
. I don't remember telling her all this at all."
There was a quick response from Kangana, who told
Pinkvilla
: "That line he (Shahid) must have borrowed from Hrithik. He would have thought that dude I will borrow these claims from Hrithik. For the uninitiated, Kangana and Hrithik spent most of last year exchanging legal notices after Kangana publicly claimed that she was dating Hrithik and he defied Kangana's statements. Kangana and Hrithik are co-stars of
Kites
and
Krrish 3
.
Kangana also elaborated the truth behind her 'tragedy' statement, reported
Pinkvilla
. "I haven't said such things. I give my version of situation. When you are enacting a scene, we don't do time pass. When we are asked questions on intimate scenes, especially to girls, there is a sleazy undertone to it. '
Kaise laga aapko kiss karke
?' What am I supposed to say? I can't say
acha laga ya kharab laga
. My purpose is to answer it as an actor. So as an actor I said there were 50 people while we were shooting in the mud scene. And my co-actor had a cold. So it was the most convenient thing to do. It was made into a horrible...I don't take these things seriously," Kangana told
Pinkvilla
.
In the interview to
Pinkvilla
, Kangana also made a reference to Shahid's boxers, and the statement is being considered and a probable
dig at actress Deepika Padukone
. "Also, media needs to understand that they shouldn't ask such questions. They ask me who is the better kisser?
Mujhe kya lena dena
? What do you mean? These men have just had babies and we don't look at them in that way. This is our work and it is our
rozi roti
. But people talk in such a frivolous way. And I never talk like that about my work. There is always a risk of being misquoted horribly but it is better than saying I love Shahid's boxers. Isn't it better?,"
Pinkvilla
quoted Kangana as saying. Kangana was perhaps referring to a comment Deepika made in 2015 about her ex and co-star Ranbir Kapoor - "He has the cutest boxers."
Last year, Shahid's comeback to Kangana's "three heroes" comment was reported by DNA: "Why doesn't she say there are three heroines in the film? Is there anything less in being a heroine?" Shahid was recently asked about her rapport with Kangana and he told PTI: "Just take it easy bro... Take it easy... Take it easy. It is all good."
Shahid features as a soldier named Nawab Malik while Kangana portrays a nineties' actress Miss Julia and Saif plays her mentor in Rangoon, which is set against the backdrop of World War II. Kangana shares intimate scenes with both Shahid and Saif in the film.
Rangoon
is Kangana Ranaut's first film after
Katti Batti
. Saif Ali Khan, Kangana Ranaut and Shahid Kapoor will work together for the first time in the vishal Bhardwaj-directed war drama
Rangoon
, which is scheduled for February 24.