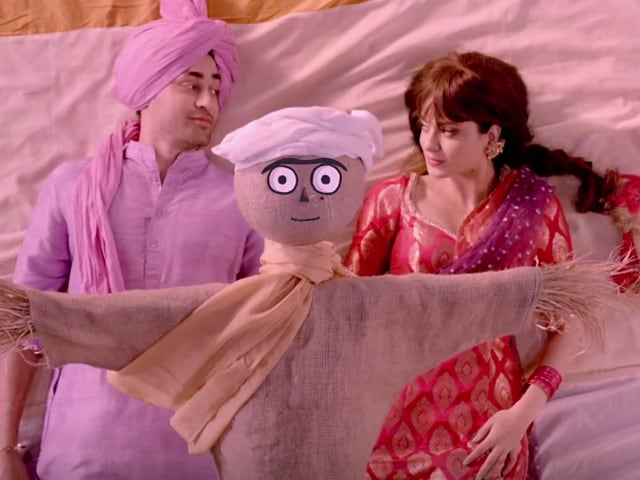 New Delhi:
Last week's
Katti Batti
, directed by Nikhil Advani and starring Kangana Ranaut and Imran Khan, may have been less than warmly received by critics and the box office but it does leave one indelible mark, however small, in the annals of Bollywood. It is this - we may finally and permanently have emerged from the twilight zone of flowers blowing primly together. Are filmy tropes related to physical love now just a well-thumbed page in the book of cinematic history? After years of fear and loathing and pretending it didn't exist, is Bollywood ready now to talk about sex?
This summiting of Everest, so to speak, has been preceded by various exploratory expeditions, most recently by director Zoya Akhtar. The matrix of intersecting emotions and equations that was
Zindagi Na Milegi Dobara
included bedroom scenes between Hrithik Roshan and Katrina Kaif, and Farhan Akhtar and his Spanish to-be-girlfriend. In
Dil Dhadakne Do
, Zoya took it further - a subplot involving a well-heeled young woman's romance with the son of her father's business rival hinged on the night she spent in his room and then lied about which man she had been with.
Half a world away, Priyanka Chopra's FBI recruit Alex Parrish has no qualms having sex in a car with a man she just met. The trailer of her TV show
Quantico
features a scene that might be tame by Hollywood standards but would certainly be considered adventurous, even scandalous, back home. In 2014 black comedy
Finding Fanny
, Deepika Padukone's character is a virgin widow, her husband having died on their wedding day, and her thwarted sexual ambition forms a minor story arc which ends in a night of passion under the stars and the anticipation of 'better' sex in the future. (Also Read:
In Quantico, Bollywood's Priyanka Chopra Seeks an American Foothold
)
In
Katti Batti
, sex is neither an incidental plot point nor a token and likely dispensable unit of a much larger whole. Instead, it is a film that glories and revels in sex. Director Nikhil Advani said in an interview with NDTV, "It's all about love, it's not about sex - that's bullshit." Fans of Barjatya-made filmy
sanskaars
, turn around slowly and step away from the DVD of
Hum Saath Saath Hain
. Romance for real is rarely about going on your honeymoon with your entire joint family in tow or being so terminally coy that it's a miracle you ever end up with your beau because god knows you never talk, leave alone get any further than conversation. As Nikhil put it, it's about "hooking up and breaking up, hooking up and breaking up." He had no trouble getting his actors on the same page. "They understood today that in modern day relationships, the foundation needs to be good sex."
Imran added, "It's so organic, a fight can turn to sex and vice versa. A beautiful, tender, sexy moment can erupt into a fight just because you say the wrong thing, do the wrong thing. And that's something that happens in real life."
In
Katti Batti
, Kangana Ranaut's character Payal breezily dismisses the possibility of a long-term relationship. 'A time pass romance' is all she's looking for and, for once, it is the male half of the equation who must deal with the resulting emotions. Eventually, a Gwyneth Paltrow-level conscious uncoupling takes, but it is Payal who is in charge. What
Katti Batti
signals so importantly - carrying on where Priyanka's Alex left off - is that women in Bollywood are taking control of their bodies, their emotions, their lives. "Why can't she be the one driving the relationship? Someone said 'she wears the pants in the relationship.' No, she doesn't - she wears a skirt, but she knows when she wants to pull it up and when she wants to keep it down," Nikhil said. Both Payal and Alex are made in the image of
Deewar
's Anita, played by Parveen Babi, who sleeps with her boyfriend without being passed judgement on. (Also Read -
An Unexpected Party: How Kangana, Imran Ended up in Katti Batti
)
The last film that celebrated sex in so uninhibited a manner was 1984's
Utsav
, directed by Girish Karnad and featuring Amjad Khan as the author of the Kama Sutra, Rekha as the courtesan Vasantsena and Shekhar Suman as her married lover Charudutt. Here, sex and related complications played a starring role.
Sex has sometimes been a disaster zone for Bollywood but not always a no-go area. Without reveling in it as
Katti Batti
does, several past movies have explored the consequences of sex or lack of it and with varying degrees of success. In most of these, it has taken the form of sexual violence - either with a would-be rape that allows the hero to swoop in and rescue the damsel in such considerable distress or a sexual assault perpetrated by the evil
zamindar
/corrupt politician/unscrupulous businessman/sworn enemy of the family and then becomes the focal point of the revenge that is inevitably taken. In a handful of sensitive and well-made films, the assault is not simply a function of the need to provide the hero with a flag to fly in his quest but the pivot around which the narrative is spun. These include
Damini, Raakh, Ghar
and
Ankush
. In
Mirch Masala
, rejection provides the drama. The rapacious
subedar
, played by Naseeruddin Shah, has no lack of consenting sexual partners from among the women in the colonial-era village he lords over. There is, however, one woman - played by Smita Patil - who refuses to yield, dividing village opinion and setting in motion a chain of tragedy. (Also Read:
Nikhil Advani's Katti Batti Experiment. Yay or Nay?
)
Tragedy is also the end product in 1992's
Maya Memsaab
, starring Deepa Sahi as a desi version of
Madame Bovary
, flitting from extra-marital affair to extra-marital affair, most memorably with a character played by a very young Shah Rukh Khan. Extra-marital sex was famously explored by two filmmakers, one of them the unusual of suspects. Mahesh Bhatt's seminal
Arth
dissected an affair as the husband moves in with another woman. In the end, as the abandoned wife rebuilds her own life and identity,
Arth
is about affirmative action. The other, and unlikely, filmmaker to have braved this territory is Karan Johar, who followed up his Barjatya-like saga of
sanskaars Kabhi Khushi Kabhie Gham
with
Kabhi Alvida Naa Kehna
- a cinematic examination of two marriages that crumble. Boy meets girl in
KANK
but both are hitched to other people. Sex in KANK signals not just the illicit affair between the characters played by Shah Rukh Khan and Rani Mukerji, but is also used to illustrate the unraveling of Rani's marriage to her husband, played by Abhishek Bachchan. In one instance, Abhishek initiates a tender moment only to have Rani fall asleep on him. In another, a guilt-racked Rani engineers a would-be sexy situation which backfires in spectacular fashion. On the face of it,
KANK
has a happy ending of sorts - SRK and Rani end up together and those left behind find their own happiness elsewhere. But look deeper, and the happily-ever-after is tinged with bitterness. SRK and Rani's characters are so consumed by their passion that it proves destructive and leaves in its wake collateral damage that includes not only their spouses, but in one case a child and in both cases a parent.
All too often, Bollywood has used sex as a moral lecture. Bad things happen to good girls who have sex out of wedlock - that is, they end up pregnant and are ostracised, either having to live out their lives on the margins of society - like in
Aradhana
- or be rescued by the benediction of a marriage licence. In Julie, there is further hostility because of the woman's identity - as an Anglo-Indian, as a Christian and as a wearer of short skirts, she is condemned by those around her. Preity Zinta made a brave attempt to confront those who presided in judgement in
Kya Kehna
, but the movie was sadly marred by a) the most awkward sex scene we will probably ever see on screen (clasped hands peeping out from behind a tree, one pair belonging to a Saif Ali Khan who appears to instantly have regretted the encounter as it ended) and b) the presence of a prospective knight in shining armour (Chandrachur Singh). In most of these films,
Kya Kehna
included, women are punished for being too profligate with their affection and favours. The men, who might either be well-intentioned or scoundrels, mostly escape both judgement and retribution.
But for now, it appears that the future belongs to
Katti Batti
's Payal,
Finding Fanny
's Angie, Priyanka Chopra as Alex Parrish and their tribe, long may it increase.