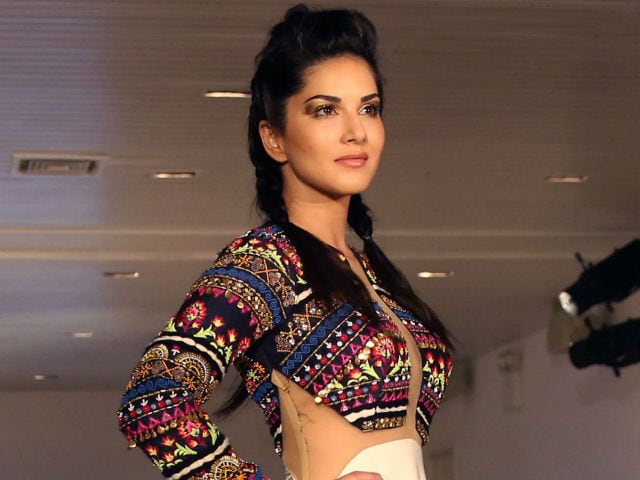 Highlights
Sunny Leone recently walked the ramp at the New York fashion Week
She reportedly called the director asking him to remove 'topless scenes'
Mostly Sunny, directed by Dilip Mehta, premiered at Toronto Film Fest
Toronto:
Actress Sunny Leone, the subject of a new documentary, has, in a sudden and strange twist, developed cold feet over certain aspects of the tell-all film.
Mostly Sunny
, made by Toronto-based photojournalist and filmmaker Dilip Mehta, had its world premiere at the 41st Toronto International Film Festival (TIFF), but Sunny chose to stay away from the event
despite being in New York
, only a short flight away.
"Days ahead of the premiere, she called me and demanded that I delete the stray topless clips that I have used from her adult films," Mr Mehta said.
"That is rather surprising coming from Sunny, who claims on camera that
she does not give a damn
about what people think of her
past as an adult entertainer
," says the documentarian whose fiction debut,
Cooking With Stella
(2009), also premiered in TIFF.
"Sunny's absence from TIFF has piqued everybody's interest. I can understand why. Had she attended the premiere in a festival as big as this one, it would have only earned her a great deal of mileage," he said.
On hindsight, says Mr Mehta, it is just as well that Sunny Leone isn't here. "The focus is now entirely on the film," he added.
Mr Mehta filmed Sunny over a period of two years in Canada, US, India, London and Malaysia.
The shoot for
Mostly Sunny
began "in Chandigarh of all places," says the director when her film
Jackpot
bombed and the actress and her husband and business manager Daniel Weber were on the verge of packing up and returning to New York.
In the documentary, Sunny admits as much: "
Jackpot
sank like the Titanic, to the bottom of the ocean."
"Bollywood offers dried up. But her luck turned in the nick of time with the
Baby Doll
number (in
Ragini MMS 2
).
She and her husband have since aggressively promoted the Sunny Leone brand and made much headway," Mr Mehta said. And that is essentially the improbable story that
Mostly Sunny
narrates in a refreshingly non-judgmental and entertaining way.
"There is absolutely nothing exploitative in the film," he said. "If anything,
Mostly Sunny
paints a portrait of a beautiful and intelligent woman, who
lived life on her own terms
."
Mostly Sunny
charts the life of Sunny Leone, born Karenjit Kaur Vohra in Sarnia, Ontario (a two-hour drive from Toronto), from her childhood in a conservative Sikh family to her shift to Los Angeles, her emergence as one of the biggest adult movie stars in the world and
her subsequent mainstream movie career
breakthroughs in Mumbai.
Mostly Sunny
, slated for worldwide release in December this year, will have its Asian premiere at Mumbai's MAMI Film Festival in October.
(Except for the headline, this story has not been edited by NDTV staff and is published from a syndicated feed.)