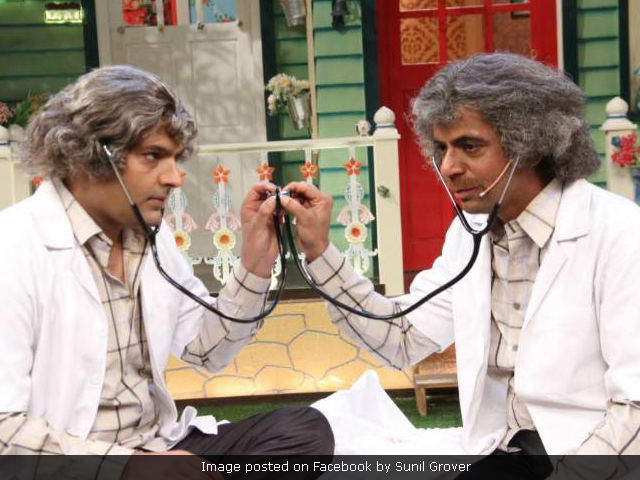 Highlights
Sunil Pal said Kapil Sharma revolutionised the genre of comedy in India
Sunil Grover should forgive Kapil because they're family, he said
"You won't be anything without each other," Sunil Pal said
New Delhi:
Stand-up comedian Sunil Pal shared a video on Facebook in which he urged fellow comic Sunil Grover to return to
The Kapil Sharma Show
, saying that together, they make a good team. In the Facebook video he shared on Wednesday, Sunil Pal said: "I humbly request Sunil Grover to return to Kapil Sharma's show because you are a huge and talented artiste. Together you and
Kapil have made the show a huge success
. You are two wheels of the show and I'm afraid you won't be anything without each other. You have quit the show once and saw that it wasn't worth it." Sunil Pal also urged Sunil Grover, 39, to understand that though he is a successful artiste now, he will always need a huge platform for his craft to reach people. "Today, the world has acknowledged your skill. But do not forget, a huge artiste needs an equally huge platform," he said.
Sunil Pal also said that Kapil Sharma should be forgiven. Sunil Pal said: "I agree Kapil Sharma may have made a mistake. Forgive him because you are like family." What Mr Sharma is accused of is rather more than a 'mistake' - he allegedly assaulted Mr Grover and hit him with a shoe while drunk on a plane from Melbourne.
For a good minute or two in his video, Sunil Pal praised Kapil Sharma, 36, for revolutionizing the genre of comedy and giving stand-up comedians in the country a "respectable platform." He said: "Earlier, our scenes in a film were chopped off and you have been through that. We comedians have a huge name because of Kapil Sharma. When people ask what I do, I say, 'I do shows like Kapil Sharma.' He has done a huge service for comedians."
Sunil Pal also clarified that he doesn't have any ulterior motive behind posting this video. "People say that Kapil will offer a role in his show if I say these things but it's not about that. He's offered me a part before and I refused saying, 'I'm not that talented and I can only do stand-up comedy'," he said.
He signed off saying: "You both are our icons. Please, I request you be each other's strength and not weakness."
Watch the video here:
Sunil Pal is one of the comedians brought in to film an episode of
The Kapil Sharma Show
after news of the assault broke. Sunil Grover and most other cast members did not show up to shoot - producers denied that this was a 'boycott' on their part and insisted that they were simply not required for that particular episode. Sunil Pal is the second comedian to urge Kapil Sharma and Sunil Grover to reconcile, after Raju Srivastava who has now joined the show.
Other industry voices have, at least indirectly, criticized Mr Sharma for his allegedly high-handed behavior (he's also accused of threatening to end the careers of his cast mates). TV
actor Karan Patel
said: "Kapil Sharma's incident proves that if you want to be loved and respected for lifelong and not momentarily, there's just one simple thing to do - 'Head on your shoulders and feet firm on the ground'." Ekta Kapoor seconded her
Yeh Hai Mohabbatein
actor's opinion and commented on his post: "True."
Here's Karan Patel's post:
Sunil Grover is believed to have exited
The Kapil Sharma Show
after the alleged assault, for which Kapil Sharma apologized in a tweet and was, in turn, rebuked by Mr Grover for 'acting like God.' Addressing
reports of his possible return
to the comedy series, Mr Grover tweeted on Wednesday:
My intentions are to act and to entertain with dignity. For me, money can't be the only reason to do something, or not to do something.

— Sunil Grover (@WhoSunilGrover) April 5, 2017
Sunil Grover delivered a live performance in New Delhi on April 1 which was followed up by his gig on the grand finale of
Indian Idol 9
. Both were super successful. Meanwhile, Kapil Sharma's show has been given a month's extension and the actor is also filming his new movie Firangi.