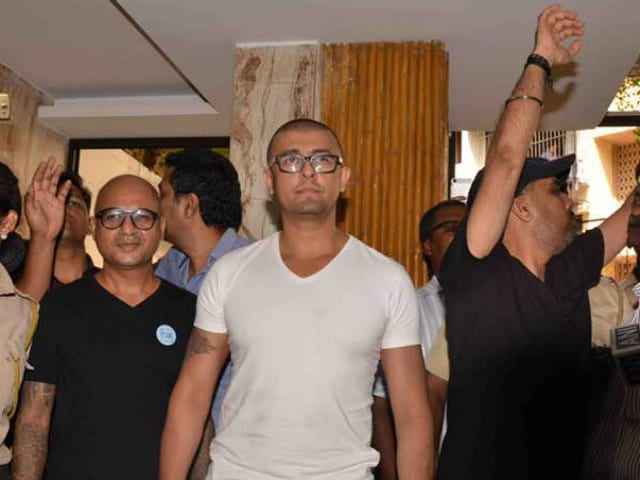 Highlights
The video appears to have been recorded from the balcony of his apartment
Sonu Nigam clarified that his protest is against the use of loudspeakers
His tweets on azaan have snowballed into a controversy now
New Delhi:
Sonu Nigam tweeted a video of
azaan
playing in the wee hours of Sunday,
which is a week after the singer's strongly-worded tweets
against the use of loudspeakers in mosques, temples and gurudwaras aggravated into a controversy. Mr Nigam, who also shaved his head to stand by his argument, captioned the video "Good morning India." Mr Nigam's video appears to have been recorded from the balcony of his apartment and pans across to point out the source of the morning
azaan
. Sonu Nigam's tweet supposedly appears to be in response to some reports that claimed
azaan
cannot be heard near the singer's apartment in Andheri West and that his tweets on
azaan
were for mere publicity.
Goodmorning India pic.twitter.com/gG8lqPZTSQ

— Sonu Nigam (@sonunigam) April 23, 2017
Meanwhile, Sonu Nigam's
has received support
by industry veterans like Javed Akhtar and Anupam Kher along with his colleagues like Randeep Hooda, Ranvir Shorey, Richa Chadha and Kangana Ranaut on his protest against the use of loudspeakers. When asked about Sonu Nigam's views on the use of loudspeakers in religious institutions, Saif Ali Khan told
Indian Express
: "Don't know who you are offending. At one level I agree, the lesser sound the better, there should be certain decibel levels allowed across religious practices. I also understand the amplification of the sound during
azaan
comes from insecurity."
Mr Akhtar, however, said: "As far as I think, no matter if it's a Masjid, Mandir, Church or Gurudwara, whatever is the place, do your prayers, but it shouldn't disturb anyone else," IANS reported while Mr Kher tweeted after Sonu Nigam went bald, saying: "
Bande mein hai dum
". "What Sonu Nigam meant was against loudspeakers not against a religion," Randeep's tweet attempted to clarify Mr Nigam's point of view. Kangana added while she loves
azaan
, Mr Nigam's opinions should be taken into consideration, reported PTI.
On Thursday, Sonu Nigam shaved his head in defiance of a 'fatwa' issued by Syed Sha Atef Ali Al Quaderi of the West Bengal Minority Council, who offered to pay Rs 10 lakh as a reward to have the singer go bald and garland him with old shoes. However, the Mr Quaderi refused to pay the amount saying Mr Nigam failed to check off all his conditions. Mr Quaderi told NDTV that Mr Nigam was also to visit "every household of Hindustan" once tonsured, which he did not.
Earlier on Thursday,
Sonu held a press conference at his Mumbai residence
, when he referred to the Muslim cleric's claims and said: "Shaving hair is no challenge or negativity, it's a symbolic move - asking, what are you making this country? What are these fatwas?" He added: "You have to fight the fanatics, you can't just hide and comment from Twitter."
Mr Nigam referred to the terms
guldagardi
and "forced religiousness" in the angry tweets he posted after being woken up by morning
azaan
, speaking of which, he said that religious processions in which people push each other out of the way is also "gundagardi." In an appeal of sorts to be not misinterpreted, he said: "
Azaan
and
aarti
are important, loudspeakers are not."
Read Sonu Nigam's tweets from last Monday:
God bless everyone. I'm not a Muslim and I have to be woken up by the Azaan in the morning. When will this forced religiousness end in India

— Sonu Nigam (@sonunigam) April 16, 2017
And by the way Mohammed did not have electricity when he made Islam.. Why do I have to have this cacophony after Edison?

— Sonu Nigam (@sonunigam) April 17, 2017
I don't believe in any temple or gurudwara using electricity To wake up people who don't follow the religion . Why then..? Honest? True?

— Sonu Nigam (@sonunigam) April 17, 2017
Gundagardi hai bus...

— Sonu Nigam (@sonunigam) April 17, 2017
Earlier this week, Sonu Nigam has been criticised as anti-Muslim for his tweets but later, Twitter was also flooded with support and appreciation for the singer's move of shaving his head.
Sonu Nigam, 43, recently appeared as a judge of music reality show
Indian Idol 9
. He also collaborated with Sachin Tendulkar for the cricketer's singing debut.