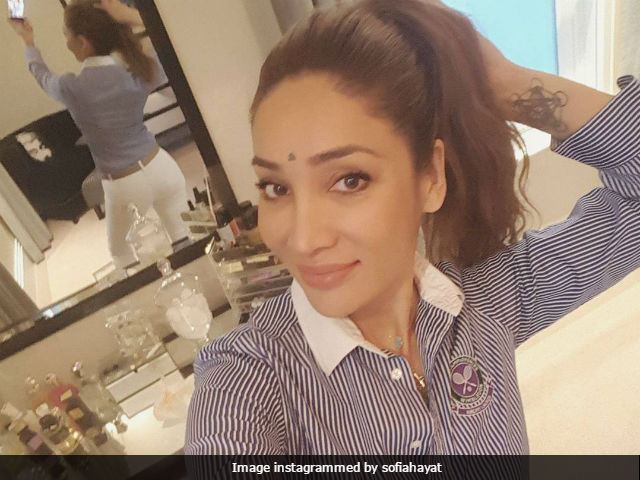 Highlights
Sofia posted a picture on Instagram, captioned: "Happily engaged"
In June 2016, Sofia announced that she had become a nun
She adopted the name, Gaia Sofia Mother
New Delhi:
Sofia Hayat, who was seen in the popular reality television show
Bigg Boss
season seven, announced her engagement on Instagram. The model-actress posted a picture of herself on Instagram, captioned: "Happily engaged." In another photograph, she is seen holding her fiance's hand during dinner. The picture has been captioned: "Intimate dinner at Sketch to celebrate our engagement in the private room in the Lecture room restaurant....they made us a congratulations cake. spreading the love(sic)." Sofia Hayat also posted a picture of the ring box, the caption of which reads: "When you meet someone who makes you feel the most beautiful you could ever feel .. I had to say yes. I am now officially engaged. Estatically happy and greatful. Sometimes you just know. After 1 week of dating..yet knowing each other so deep...we knew. Love is infinite..and so great. When you feel this amount of unconditinal love in such little time..you know. Always be true to your heart..for it only knows the truth. This is the marriage the heavens have been waiting for. The cosmic mother has finally been reunited with the cosmic father..and in our abundant Unconditoonal LOVE..the world will come to know it to. The alchemy of sacred sex brings about changes to the world in a way you never thought possible. The SUN The Father..is now here."
In June 2016, Sofia Hayat announced that she has embraced spirituality and become a nun. She adopted the name, Gaia Sofia Mother. She had also sparked controversy by getting Swastik tattooed on her feet.
Sofia Hayat was a
contestant in the seventh season of Bigg Boss
. Gauhar Khan, Tanisha Mukherjee and Ajaz Khan were also part of the show which is hosted by Salman Khan.