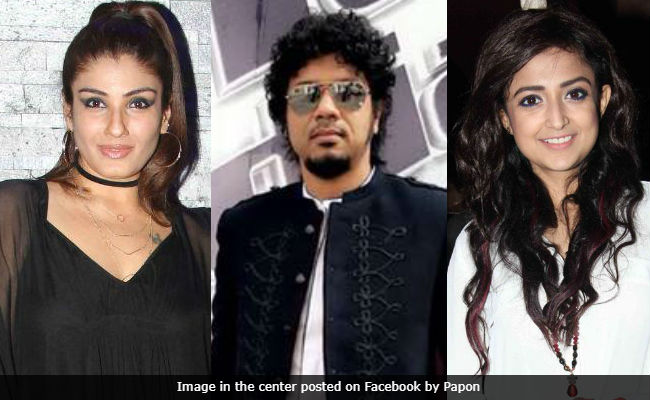 Highlights
Papon should be arrested, says Raveena Tandon
Farah said that the viral video featuring Papon was disturbing
Papon did not have any ugly ulterior purpose: Monali Thakur
New Delhi:
Singer Papon, who was accused of "inappropriately kissing" a contestant in a children's reality show, later apologised but blamed the controversy on "faulty camera angles and accident." However, his colleagues are not accepting his apology or even the explanation he gave in a lengthy statement he shared on Twitter on Friday. Celebrities such as Raveena Tandon, Gauahar Khan and Suchitra Krishnamoorthy among others slammed the 41-year-old singer saying that his beahviour was 'disgusting.' Raveena Tandon, who was last seen in
Maatr
, tweeted: "This man Papon should be arrested." Filmmaker Farah Khan said that she knew Papon to be a "good person" but the viral video did make her "uncomfortable."
Papon was a mentor to the teenager on TV show Voice India Kids and the objectionable clip was a part of the Holi greetings from Papon's team through a Facebook live session. After Papon's statement, the participant's father also defended the Assamese singer, calling him a "father figure" to his daughter. "What you saw in the video is not intentional. It was just a moment of affection that is being portrayed otherwise," he said.
But Raveena Tandon in her angry outburst on Twitter said, "The girl's parents succumbing to pressure." Here's what she tweeted:
Disgusting! Shameful!Perverse! This man Papon should be arrested ! The girls parents succumbing to pressure ! The explanations given are ridiculous! Haven't felt such anger and shame to see this happen and some on tv debates actually defending the act !

— Raveena Tandon (@TandonRaveena) February 23, 2018
Whatever the situation,accidental,unintentional,affection,love, though it is sad the #papon controversy happened. But will be an eye opener and lesson for all to not getting carried away,and not crossing a line which can be seen as inappropriate.

— Raveena Tandon (@TandonRaveena) February 24, 2018
Unlike Raveena, Farah Khan balanced her words and told news agency PTI: "I know Papon, he is a good guy. But there is no doubt that when I saw that video, it made me uncomfortable. I don't think he meant to do it, but if it was my daughter I wouldn't like it. I think he meant it in the right way, because I know him and he is really a nice guy, but the video did make me very uncomfortable."
Here's what other celebrities said about the controversy:
If anybody behaved with my daughter the way #Papon did with the teenage girl I would slap him several times in such a way that no one dared behave that way again

— Suchitra Krishnamoorthi (@suchitrak) February 23, 2018
Wasn't smothering a child's face with your palm rubbing color all over it for 4 secs enough as fatherly love, that u had to pull the child's face then to strategically peck her on the lip??? There was no wrong camera angle or the child moving her face mistakenly BTW #papon

— Gauahar Khan (@GAUAHAR_KHAN) February 23, 2018
The controversy also gave birth to the hashtag '#IStandWithPapon,' which was used by a section of celebrities such as National Award-winning singer Monali Thakur and Suchitra Pillai to reiterate that Papon had no ulterior intentions.
I got so many calls yesterday for this ridiculous misinterpretation of a man's gesture of affection! I am a girl n I know what is sexual perversion in a man! And Papon is anything but that! Leave aside for a kid! Lotsa love @paponmusic#iStandbyPaponhttps://t.co/UJhX9P8fZH

— Monali Thakur (@monalithakur03) February 24, 2018
#IStandByPapon a supremely talented musician whom I have worked with and know well .i will never believe that there was any ugly ulterior purpose to that show of affection from him. So, #istandwithpapon#IStandByPapon

— suchitra pillai (@suchitrapillai) February 24, 2018
This was Papon's statement after the clip of him smearing Holi colours on the contestant, grabbing her face and kissing her, went viral:
February 23, 2018
Supreme Court lawyer Runa Bhuyan filed a complaint with the National Commission for Protection of Child Rights (NCPCR) against Papon under the Protection of Children from Sexual Offences Act (POCSO) Act saying that the singer has "committed sexual assault." The NCPCR have issued a notice to both the singer Papon and the channel which airs the show, an official told IANS.
(With inputs from PTI and IANS)