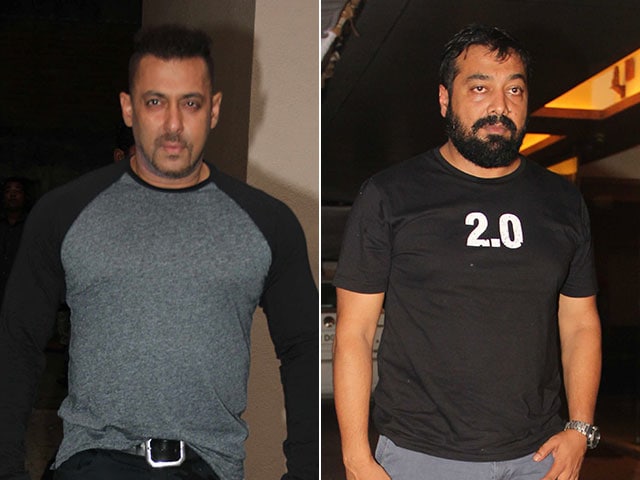 Highlights
'I used to feel like a raped woman,' Salman Khan had said
I am sure he will be regretting it: Anurag Kashyap
Anurag Kashyap also said that Salman's statement 'empowers misogyny'
New Delhi:
Filmmaker Anurag Kashyap criticised actor Salman Khan for his rape analogy saying that it was "thoughtless" and "daft" of the actor to make such a remark.
He also questioned the journalist, interviewing him, for allegedly laughing over the comment.
Salman, in a group interview to promote
Sultan
, made the remark that he felt like a "raped woman" after one gruelling shoot for the wrestling drama.
An interview carried by
Spotboye
quotes the 50-year-old star as saying, "When I used to walk out of the ring, after the shoot, I used to feel like a raped woman. I couldn't walk straight."
Moments later, Salman appeared to regret his statement. "I don't think I should have...," he said.
Anurag Kashyap said that Mr Khan was "thoughtless and daft" to have made a comment like that.
"Why are we making it out his individual responsibility? It is very unfortunate that he made an analogy like that. It is very thoughtless of him, in a way daft of him. I am sure he will be regretting it and will apologise for it. If he really cares, he should apologise for it," Mr Kashyap told a TV channel.
It has been reported that the journalists, who were interviewing the actor had laughed at Mr Khan's statement.
Mr Kashyap slammed the scribe, answering whose question Salman made the comment, saying he should have questioned Mr Khan over the statement.
"But does the responsibility lie alone with him? The guy who was interviewing him? When the man gives an analogy like this, he laughs at it. He does not question him. In his mind, he is thinking I have got a headline. How irresponsible it is to make that into a headline," said Mr Kashyap.
"I would have taken that out. It does not send a great signal. It empowers misogyny. Suddenly, people have got an issue to jump on," said Mr Kashyap.
Salman Khan's father Salim Khan apologised on the actor's behalf. However, the demand for Salman Khan to issue an apology himself has been growing from political parties, activists and social media users.