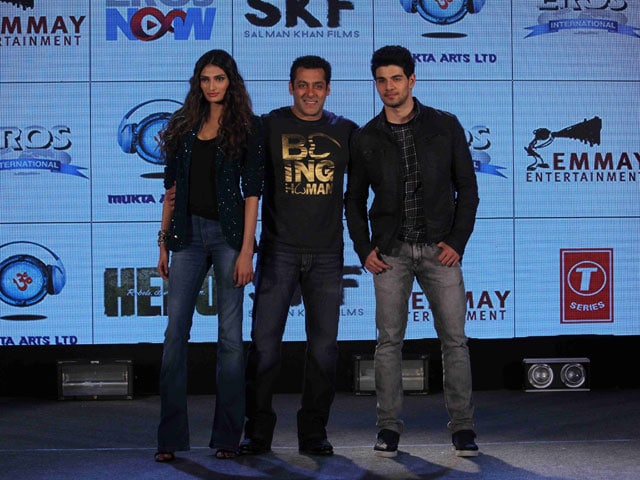 Mumbai:
Superstar Salman Khan said that he didn't compromise on the budget for his production
Hero
just because it features newcomers Athiya Shetty and Sooraj Pancholi.
"The biggest challenge for me in this movie was not to care about the budget. Caring about the budget even a bit, could make this film into a disastrous film. So the kind of budgets that I work on, we've done the same budget for Athiya and Sooraj, because their journey starts from this film onwards, so we didn't want to leave any stone unturned," said Salman.
"So we paid attention to everything from the music to selection of the director to Nikhil spending days and nights with these two, and they going through their training in dancing, action and other such things. I was working on
Bajrangi Bhaijaan
but my concentration was more on this than
Bajrangi Bhaijaan
because I've seen my life journey but their careers start now. It shouldn't be that fingers should point at me, that I've put them into trouble," added Salman.
Directed by Nikhil Advani,
Hero
is a remake of Subhash Ghai's 1983 film of the same name and is scheduled to release on September 11.(Also Read:
Why Salman Khan Edited Out a Kissing Scene in Hero
)
Nikhil had said earlier that Salman wanted his film to be shot on a big scale.
The
Dabangg
actor also spoke about the music of the film."Obviously the music has picked up and become a big hit. But I think we erred as we should've released the music at least four months before. As producers, we've messed up on that. I think we need slightly more time for music, especially in a love story. For all the 5-6 songs to become hits we need sufficient time. It's important to promote it in this short time because their whole life depends on the music of the film," he said.
Hero
is the second film under the banner of Salman Khan Films after his blockbuster
Bajrangi Bhaijaan
.