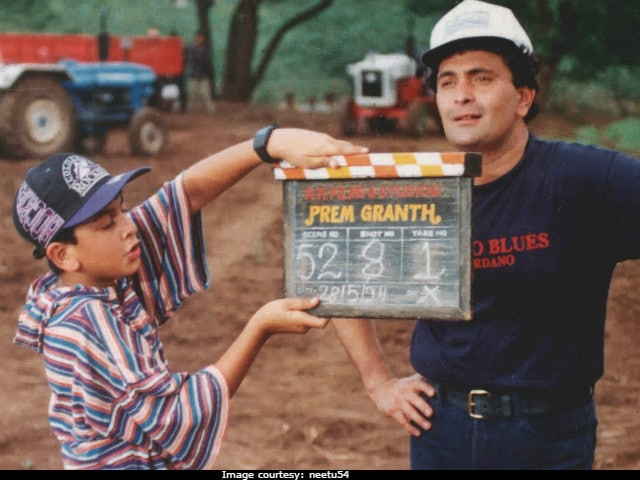 Highlights
Rishi Kapoor launched his biography Khullam Khulla in Delhi recently
Ranbir also writes in the foreword to Khullam Khulla
'I am closer to my mother,' he wrote
New Delhi:
While launching
his autobiography Khullam Khulla
in Delhi, actor Rishi Kapoor spoke about the complexities of father-son relationships in the Kapoor family. He and his father Raj Kapoor had shared an equation that was more formal than friendly and that was the style of parenting Mr Kapoor used with his own son Ranbir, the 64-year-old actor said, reports news agency PTI. Ranbir Kapoor has written a revealing foreword to his father's book. Both agree that Ranbir is closer to mother Neetu Kapoor than dad Rishi. Both actors speak or write of distance, disconnect and unease and how they wish it could have been different.
Ranbir writes in the foreword
to
Khullam Khulla
: "I am closer to my mother. I feel that Dad modeled his relationship with me on the one he shared with his own father. And it is true that I have never crossed a certain line with him. But there is no sense of loss or vacuum here. I do wish sometimes that I could be friendlier with him or even spend more time with him."
To this heartbreaking admission, Rishi Kapoor added his own. Speaking of his own failure as a father, he said at his book launch: "I was extremely busy during Ranbir's childhood days and he was more close to Neetu probably he felt that he needs his father but I'm sorry I just can't and I'm failed. I can't be a friend father to a son. I was never that way with my father as well. You have to accept the way I am."
Ranbir, now 34, was born in 1982 - the Eighties and early Nineties were Rishi Kapoor's busiest period. He made multiple films a year,
delivering hits like
Prem Rog
,
Nagina
,
Chandni
and
Saagar
.
Mr Kapoor agreed that his relationship with Ranbir reflected that with his father Raj Kapoor. "I never argued with my father and it so happened that unfortunately the same kind of relationship passed on with me and Ranbir. I really want that there should be love and respect between me and Ranbir, but at the same time I want that there should be some kind of distance that I can see you but I can't feel you," he said, reports PTI.
Ranbir is going to do things differently
with his own kids, said his father. "I know I'm wrong. Ranbir has his own point of view about it while I have my own. He feels that when he is going to have kids he is not going to be like me. Call it a generation gap or whatever, I'm like that," Rishi Kapoor said.
In the foreword, Ranbir writes: "I wish I could just pick up the phone and ask him, 'Dad, how are you doing?' But we do not have that. We do not have a phone relationship. When I get married and have children, I would want to change that dynamic with them. I don't want my relationship with my children to be as formal as the one I have with my father. I want to be friendlier, be more connected, spend more time with them than he did with me."
Rishi Kapoor
's wife Neetu and daughter Riddhima attended the launch of
Khullam Khulla
(named after a song from the film
Khel Khel Mein
) in Delhi.
(With inputs from PTI)