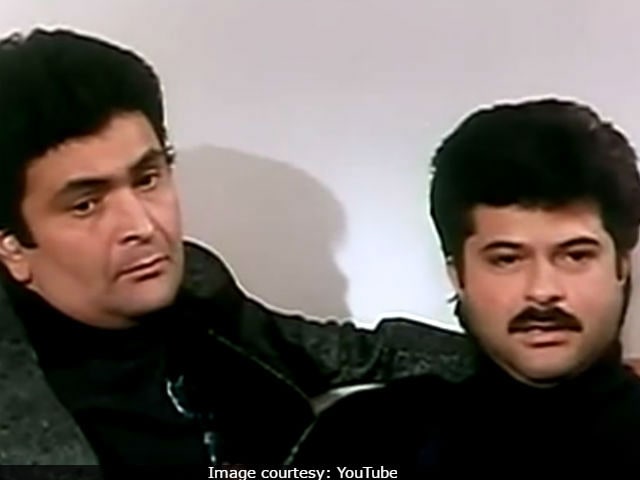 Highlights
"Insightful, witty and honest," says Anil Kapoor
The foreword to the book has been written by Ranbir Kapoor
Mr Kapoor's book talks about his father Raj Kapoor's affair with Nargis
New Delhi:
Actor Anil Kapoor read Rishi Kapoor's autobiography,
Khullam Khulla
, over the weekend and reviewed it on Twitter this morning. His verdict: "insightful, witty and honest" - just like Rishi Kapoor himself, 64. The book has been making headlines for the explosive revelations the
outspoken Rishi Kapoor
has made in it, from criticizing Amitabh Bachchan to detailing his father
Raj Kapoor's affair with Nargis
. The foreword to the book has been written by the actor's son Ranbir Kapoor, who writes about his distant relationship with his father and how he wishes they could be friends. Anil Kapoor, who has appeared in films like
Vijay
and
Gurudev
with Rishi Kapoor, tweeted this morning:
@chintskap Reading your book is like walking down memory lane...And just like you, it's insightful, witty and honest. pic.twitter.com/a1fBLF9adJ

— Anil Kapoor (@AnilKapoor) January 23, 2017
Anil Kapoor's daughter Sonam and Ranbir debuted opposite each other in 2007 film
Saawariya
.
Rishi Kapoor, who promoted his book at the Jaipur Literature Festival last week
, has written of a 'lingering issue' with Amitabh Bachchan: A big disadvantage of working in an all-star movie in those days was that everybody only wanted to make action films, which automatically meant that the star who could carry off action with the most flair would get the meatiest part. That's how, with the exception of
Kabhi Kabhie
, which was a romantic film, none of the multi-starrers I featured in had an author-backed role for me. Directors and writers unfailingly reserved their strongest, pivotal roles for
Amitabh Bachchan... In my time, the musical/romantic hero had no place
. Amitabh was an action hero in an era of action films. As such, writers gave him the lion's share and he had the author backed roles in almost all his films...But this is something that Amitabh has never ever admitted to, in any interview or book. He has never given due credit to the actors who have worked with him."
Of his father Raj Kapoor's romance with Nargis, he wrote: "I was very young when my father had an affair with Nargisji, and so was not affected by it. I don't remember feeling anything was amiss at home either. But I do remember moving into the Natraj Hotel on Marine Drive with my mom during the time Papa was involved with Vyjayanthimala. My mother had decided to put her foot down this time. From the hotel, we shifted for two months into an apartment in Chitrakoot (the building still stands on the curve of Altamount Road). My father had bought the apartment for Mom and us. He did all he could to woo her back, but my mother wouldn't give in until he had ended that chapter of his life."
Rishi Kapoor was last seen on screen in 2016's
Kapoor And Sons
. Anil Kapoor is working on
Mubarakan
with his nephew Arjun.