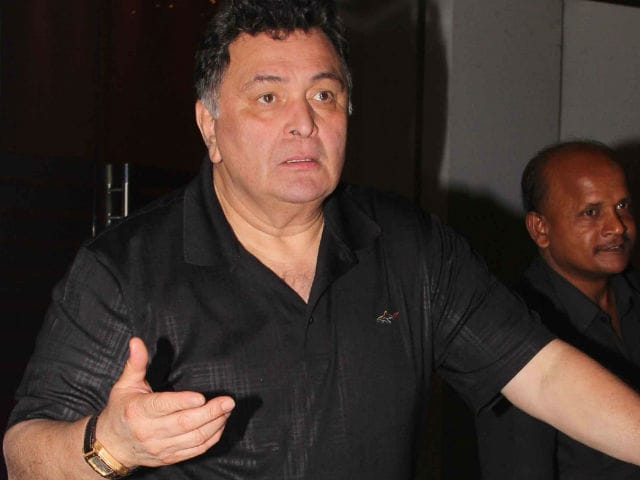 Highlights
"You can't abuse me and think I will keep quiet," said Rishi Kapoor
Rishi Kapoor abused trolls through direct message on Twitter
Mr Kapoor later blocked the Twitter users who trolled him
New Delhi:
Actor Rishi Kapoor embarked on a Twitter offensive against trolls over the last couple of days, posting not only retaliatory tweets but also sending direct messages or DMs, some of them to women. His democratic takedown of the messages he receives online appears to have backfired somewhat. The 64-year-old star has now been accused of being abusive to women, and several Twitter users have shared screenshots of the DMs received.
A Twitter user
shared multiple screenshots and wrote: "First abuse women via. DM and then abuse Parsi community on Twitter. That's oldie Bollywood star Rishi Kapoor @chintskap for you ppl. (sic)." We are not reproducing the expletive-filled tweets here.
Mr Kapoor, known for his
politically incorrect style of tweeting
, was enraged by what he describes as 'wise cracks' after two separate tweets posted on March 5 - in one, he asked what he and new father Karan Johar had in common (the answer - both have named their sons after their fathers) and in the second, he enquired on which TV channel the Pakistan Super League matches were being broadcast. He spent the next day blocking or tweeting to 'idiots and smart asses' and anyone he considered was trying to be funny.
To the question about him and Karan Johar, Mr Kapoor got reactions like:
@chintskap art of getting away with stupidity since you are celebrities?

— Navdeep Singh Chahal (@navdeepthinking) March 5, 2017
@chintskap दोनों का फेवरेट गेम है लोगो को ट्विटर पर ब्लॉक करना 😂😂😂😝

— Manoj Choudhary (@ch_jangu) March 5, 2017
@chintskap both are famous for nothing..

— Lingraj Wali -HMP (@iamWali10) March 6, 2017
Rishi Kapoor, whose biography recently hit the shelves, defended his latest rant to
Hindustan Times
, saying: "You can't follow me and abuse me and you think I will keep quiet." The
Agneepath
actor added: "They are the ones who are abusing me and taking advantage of my situation. The way I have stopped entertaining them is that I go to them and teach them a lesson and come back. They are nonsensical people. They are the ones who are following me. Only if they are following me, can I go to them and send them a direct message."
Of using direct message instead of responding publicly, Mr Kapoor told
Hindustan Times
: "Once I was corrected that I should not put this on my timeline. Now I go to them and do this. I will not let anyone try and stomp over me. No one can walk over me."
This is not the first time Rishi Kapoor has been perceived as being l
ess than gentlemanly on social media
. After the Oscars, he
shamed 70-plus presenter Faye Dunaway
in this tweet:
Looked elegant but what about all that Botox all over the face? She was unrecognisable. All Though Warren Beatty is ageing gracefully. https://t.co/aye8U1logs

— Rishi Kapoor (@chintskap) February 27, 2017
Rishi Kapoor was last seen in the Shakun Batra-directed 2016 film
Kapoor And Sons
.