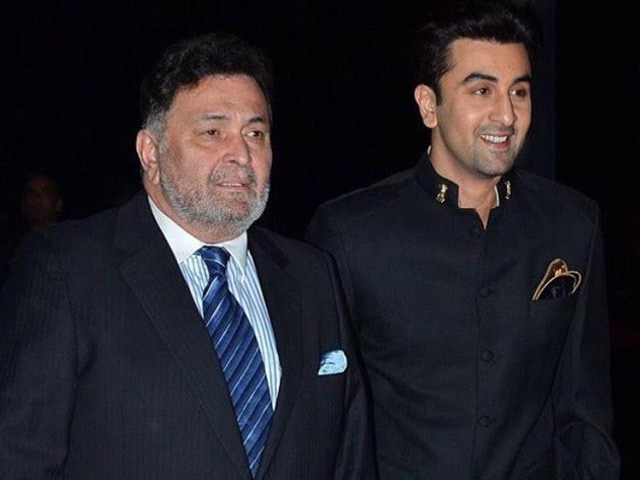 New Delhi:
Actor Rishi Kapoor began and ended his day on Twitter yesterday by sending out disclaimers about his son Ranbir. Mr Kapoor Senior is tired of being bombarded with messages for social media-abstaining Junior.
Late last night, Mr Kapoor tweeted:
Another thing. I am Not and repeat NOT Ranbirs Post Box that you can drop messages or post them. Thank you,I remain yours truly-Rishi Kapoor

— rishi kapoor (@chintskap) April 21, 2015
Just in case you didn't get it:
April 21, 2015
Earlier yesterday, a disgruntled Mr Kapoor issued a reminder a reminder that his son was not on social media. Ranbir Kapoor's closest encounter with Twitter so far has been a promotional appearance in January that was put out like the briefest of candles in just 24 hours. Some fans, it appears, are having trouble with this:
Hello friends.This is Ranbirs dad. Just want to state that he's not on any social platform whatsoever so please don't get fooled by any dupe

— rishi kapoor (@chintskap) April 21, 2015
That message was important to those fans of his who still believe that he is on Twitter. I get requests and complaints regarding him. Sorry!

— rishi kapoor (@chintskap) April 21, 2015
In between Ranbir-related utterances, the 62-year-old actor tweeted (and was tweeted to) about sweaters.
Sweaters.It was a passionate collection,over a period of time,which I used in films without repeating.This info for fans inquiring about it.

— rishi kapoor (@chintskap) April 21, 2015
Example of sweater:
April 21, 2015
Sweaters were discussed threadbare:
@chintskap my granny used to knit sweater n every now n then she got orders for ones in your movies. This one from Heena was most difficult

— Sandeep Patil (@pppsandeep) April 21, 2015
@chintskap i liked all of ur Sweaters/Woolens in films like Chandini, Henna, Deewana etc. i used buy and wear them just because of you!

— Zulfiqar Ali Ahmed (@cypherrz) April 21, 2015
@chintskap sweaters were ur trademark and after that even anil kapoor used to follow that.

— deepak (@drdeepak1382) April 21, 2015
Rishi Kapoor was last seen as Sonam Kapoor's father in 2014's
Bewakoofiyaan
. Ranbir stars in the upcoming period piece
Bombay Velvet
.