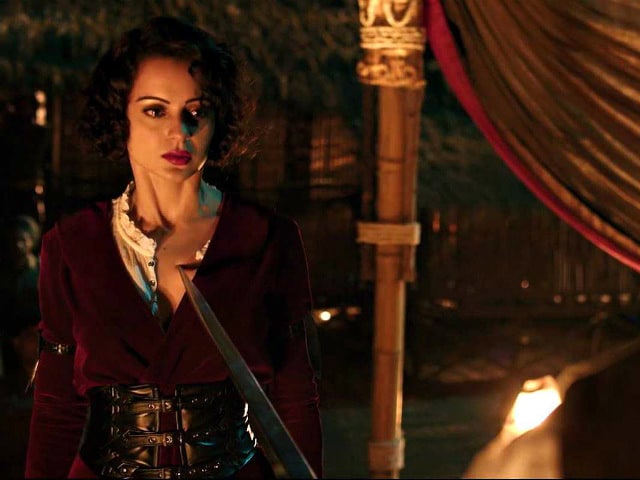 Highlights
Team Rangoon was asked to make a guarantee deposit of Rs 2 crores
The makers have also been asked to continue with regular payments
Rangoon makers have been accused of copyright infringement
New Delhi:
Kangana Ranaut's Rangoon
was granted a conditional release by the Bombay High Court with a guarantee deposit of Rs 2 crores on Thursday, a day before the war drama hit theatres, reported
mid-day.com
.
Rangoon
features Kangana as '
forties actress Miss Julia
, a character which has stark similarities with that of Australian actress and stuntwoman Mary Ann Evans, best known by her screen name Fearless Nadia and for her role as the masked protagonist in 1935 film
Hunterwali
. The film was backed by Mumbai-based production house Wadia Movietone. The conditional release was granted in connection with the copyright infringement case filed by Roy Wadia, who now heads Wadia Movietone.
In the mid-day report, Justice KR Shriram, who headlined the court session on Thursday, was quoted as saying: "I am ruling in favour of plaintiff (Wadia Movietone). But if you agree to deposit Rs 2 crore as bank guarantee, I will allow the release of the movie on Friday." The makers of
Rangoon
have also been asked to continue with a regular payment of 10 per cent annual interest till the case is resolved, reported mid-day. Earlier on Thursday,
Rangoon
director Vishal Bhardwaj had already made arrangements for an appeal, anticipating a restraining order on the film's release, reported
mid-day.com
.
In a statement to
mid-day.com
, Mr Wadia said that all he expected from Team
Rangoon
was "a genuine spirit of collaboration and acknowledgment:" "I would like to thank all those who supported Wadia Movietone, my family and our cause. The important thing is that we - a small entity, an archive really which is all that remains of a once mighty studio - took on a significant filmmaker and studio, and in doing so, boosted the cause of justice, just like Fearless Nadia did in my grandfather's films. I can now sleep well knowing we did all that we could to honour my family's memory and legacy. I do not wish Vishal Bhardwaj or anyone else associated with the film Rangoon any ill. I just wish they had acted in a genuine spirit of collaboration and acknowledgment," Mr Wadia told
mid-day.com
.
Roy Wadia also alleged that
ahead of Rangoon
, the detailed script of
Hunterwali
was shared with the makers of the film but they "backed out" more than a year ago, reported mid-day.com. In his defence, Mr Bhadwaj reportedly claimed that the script was not shared with him directly.
Earlier this month, Kangana told news agency IANS: "I think there is some legal hassle around that. First of all, we cannot comment on a matter when it's already in the court, but we can assure you that it's not based on any living or dead person."
Rangoon
also stars actors
Saif Ali Khan and Shahid Kapoor
, who form the two parts of a love triangle with Kangana. Saif features as Miss Julia's love interest, producer Rusi Billimoria while Shahid plays the role of a soldier, Nawab Malik, who falls in love with Kangana's character. The trailer reveals that Miss Julia is forced to travel to Burma for to perform for the soldiers stationed there. Complications begin when Miss Julia develops feelings for Nawab Malik, who remains in charge of the actress' protection.