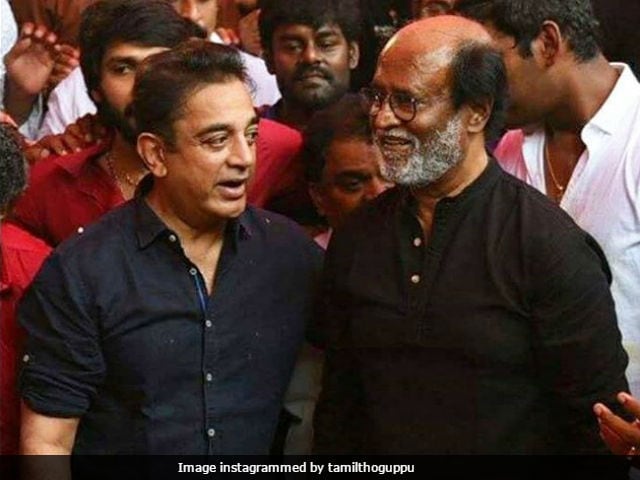 Highlights
Rajinikanth: Don't know how Kamal will handle things without his brother
Kamal Haasan's elder brother Chandra Hasan died on March 18
"Chandra considered me as his own son," said Kamal Haasan
New Delhi:
Actor Kamal Haasan's elder brother Chandra Hasan died at his residence in London on March 18 due to cardiac arrest
. The 62-year-old actor held a memorial meet at Kamaraj Arangam in Chennai on Wednesday which was attended by several celebrities including superstar Rajinikanth. Condoling Chandra Hasan's death at the meet, Rajinikanth said that Kamal Haasan, who has been a part of the film industry for over five decades, has 'very little money'. "Whatever little money Kamal had made is mainly due to his elder brother Chandra Hasan. Even, the current generation actors have made enough money but Kamal doesn't bother much. Don't know how he is going to handle things without Chandra brother",
Hindustan Times
quoted Rajinikanth as saying.
"Only his two brothers, Chandra and Charu can candle Kamal's anger. He is the angriest person, I've ever met in my life",
Hindustan Times
quoted Rajinikanth as saying.
After the memorial meet, Kamal Haasan addressed the media, where he was quoted saying: "I've many brothers like Rajinikanth, can learn the art of money making and filmmaking from them".
Kamal Haasan said that his elder brother considered him as him 'own son'. "I can't stop talking about my brother Chandra, he considered me as his own son. Talking about his noble qualities can't be restricted to this memorial meet, would remember him forever. They way he handled people with great respect is incredible, he never appointed a maid to wash his clothes, he is a great cook,"
Hindustan Times
quoted Rajinikanth as saying.
Kamal Haasan and Rajinikanth have co-starred in films such as - Geraftaar
,
Ninaithale Inikkum
,
Thillu Mullu
and
Apoorva Raagangal
.
Kamal Haasan was last seen in 2015 movie
Thoongaa Vanam
, directed by Rajesh M Selva.
Rajinikanth was last seen in Pa Ranjith's film
Kabali
. He is currently shooting for
2.0
, directed by S Shankar. The film, which also features Akshay Kumar and Amy Jackson in lead roles, is scheduled to release on October 18.