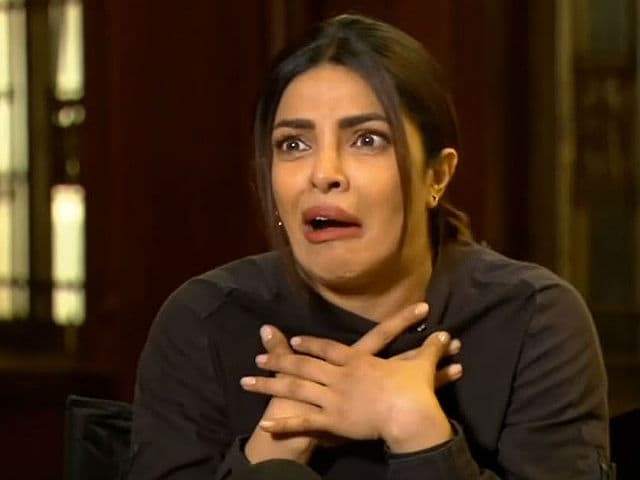 Highlights
A senior citizen was offended by Priyanka's offer of assistance
Priyanka didn't reveal when or where the incident took place
She's currently filming Quantico season 2
New Delhi:
Everyone
loves actress Priyanka Chopra
- everyone, that is, except the senior citizen she once tried to help carry her bags. The 34-year-old actress revealed in an interview that the elderly woman was, in fact, offended by Priyanka's offer of assistance.
Priyanka revealed that she offered to help the woman put her shopping into a car and was rejected. She didn't say where or when this took place.
"I saw this lady walking with a lot of bags and she was trying to put stuff into the car and I was like, 'Hey, let me help you.' And she was like, 'What? You think I can't do this myself?' And I was like, 'I'm sorry'," Priyanka said in an interview.
The actress, who is filming the second season of her
popular television series Quantico in New York
, is apparently
doing most of her action sequences
by herself. The makers have a stunt double for Priyanka on the sets, but she said, "I've done a lot of action movies. So, I have experience with action. I'm very careful." Some of Priyanka's top action films are the
Don
series and
Jai GangaaJal
, which was the last Hindi film she made.
Priyanka Chopra plays CIA agent Alex Parrish in
Quantico
who is hunting down enemies - both her own and of the state - and faces several challenges in the process. "The CIA is all about immorality and lying and Alex is not that person," she said.
Priyanka, who has temporarily moved to USA, has had massive success on Quantico.
She was rated #8 on Forbes' list of the world's highest-paid TV actresses
this year.
Priyanka Chopra will soon make her
Hollywood debut in Baywatch
. She plays the antagonist, named Victoria Leeds, opposite Dwayne Johnson in the film version of the hit Nineties TV show. We'll expect to see her on the Forbes list of top film actresses, a list that already includes her colleague Deepika Padukone.
Priyanka has
no stated plans to return to Bollywood
any time soon but has
produced a Marathi film
, titled
Ventilator
.