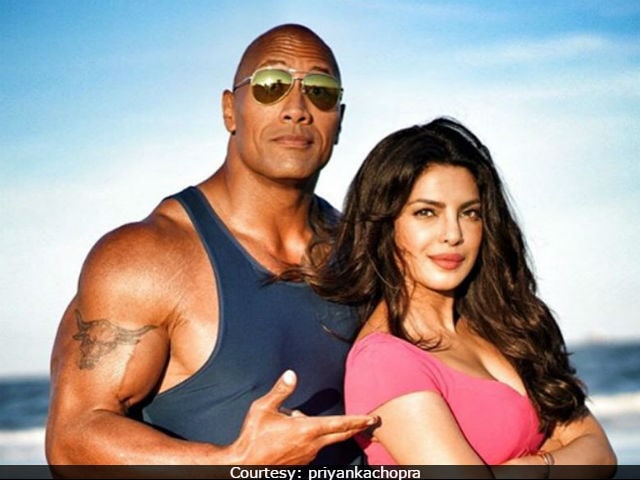 Highlights
Dwayne Johnson also said that Priyanka Chopra is 'very special' to him
Baywatch is Priyanka Chopra's first Hollywood film
Priyanka plays the antagonist Victoria Leeds
New Delhi:
Priyanka Chopra's Baywatch co-star Dwayne 'The Rock' Johnson is totally smitten by the actress
. Don't believe us? We've got a proof. A day after Dwayne shared a video on Twitter, released by the makers of
Baywatch
, Paramount Films, in which, the 44-year-old actor said that Priyanka Chopra is very special to him, he has heaped praises for the Bollywood star yet again. "Hard to balance real malevolence with charm and humour.
Perfect choice for our Baywatch
," Dwayne tweeted.
Baywatch
is Priyanka's first Hollywood film. The film releases on May 25 (June 2 in India). Priyanka, 34, plays Victoria Leeds, the antagonist. After wrapping her Hollywood commitments, the a
ctress returned to India last week
. Priyanka also debuted on television with her show American drama show
Quantico
.
Here's Dwayne's tweet:
Hard to balance real malevolence with charm and humor. Perfect choice for our @baywatchmovie@priyankachopra
https://t.co/5WXpc00a9X

— Dwayne Johnson (@TheRock) April 27, 2017
Now, listen to what more Dwayne 'The Rock' Johnson has to say about his co-star:
Thank you India for the amazing response and just wait til you see @priyankachopra in bad ass/evil action. @baywatchmoviehttps://t.co/gftC3JZmQB

— Dwayne Johnson (@TheRock) April 27, 2017
Soon after coming to India, Priyanka began
Baywatch
promotions minus Dwayne Johnson. However, through a video message, the actor apologised for his absence and said, "I am so sorry I couldn't be there with you. Priyanka and I had talked about this for months. Coming to India would've been my first time. I cannot wait to come. I wish I could've joined you this time," reported news agency PTI.
The
new trailer of Baywatch, with lots of Priyanka in it, released earlier this week
. The video totally compensated for Priyanka's blink-and-miss appearances in the previous trailers.
Here you go. Enjoy.
Lol! Just Look at me @TheRock U think I'm gonna b intimidated by a bunch of swimsuit calendar alumni? #BeachPlease@baywatchmovie#May25https://t.co/IV1uRsq9dY

— PRIYANKA (@priyankachopra) April 26, 2017
Baywatch
is based on popular television series of the Nineties of the same name, headlined David Hasselhoff and Pamela Anderson. Dwayne Johnson will take up the role of Mitch Buchannon, Zac Efron stars as Matt Brody and actress Kelly Rohrbach plays CJ Parker.