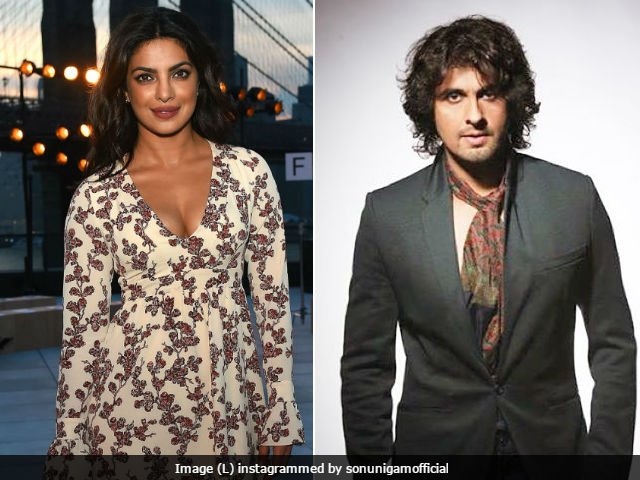 Highlights
An old clip of Priyanka speaking in Bhopal has been going viral
Priyanka said listening to the 'azaan' was her favourite part of the day
Sonu Nigam's tweets on the 'azaan' have become controversial
New Delhi:
While actress Priyanka Chopra is minding her business packing to fly to Mumbai from New York, an old video of her speaking to reporters in Bhopal is going viral. The clip, possibly dating from when the 34-year-old actress filmed
Jai Gangaajal
in Bhopal, is being invoked in the debate over singer Sonu Nigam's tweets describing being woken by the
morning azaan as 'gundagardi.'
Priyanka also speaks about the
azaan
in the video and reveals that her favourite part of the day in Bhopal was listening to the evening call to prayer from several nearby mosques while watching the sunset. The short clip is being circulated on social media and WhatsApp as a contrast to Mr Nigam's posts, which have received both criticism and support. Here's the video of Priyanka Chopra speaking about the
azaan
:
Priyanka Chopra is the second celebrity to be dragged willy nilly into the controversy after actor Sonu Sood was trolled on Twitter in Sonu Nigam's stead.
Sonu Nigam posted a series of annoyed tweets on Monday morning complaining about being woken by the
azaan
and railed against 'forced religiousness' and '
gundagardi
.' On Tuesday, he tweeted again, making it clear that it was the noise and loudspeaker he was against and not Islam. He denied his tweets were anti-Muslim, as many critics labelled them.
Dear everyone. Your stand exposes your own IQ. I stand by my statement that loudspeakers should not be allowed in Mosques & Temples. Period

- Sonu Nigam (@sonunigam) April 18, 2017
And dear Everyone, for those who are tainting my Tweets anti Muslim, tell me 1 place where I have said anything related, & I'll apologize.

- Sonu Nigam (@sonunigam) April 18, 2017
When I am talking about Loudspeakers, I did mention Temples and Gurudwaras too. Is it that hard to comprehend? Loosen up guys.

- Sonu Nigam (@sonunigam) April 18, 2017
The singer has now gone bald
, in response to a fatwa issued against him by a Muslim cleric offering Rs 10 lakhs to anyone who would shave Mr Nigam's hair. After tweeting "
Keep your 10 lakhs ready
, maulvi," Mr Nigam had his head shaved himself at a press conference on Wednesday afternoon.
Bollywood has mostly steered away from commenting on Mr Nigam's posts. Actress Richa Chadha tweeted to say he would be misunderstood. Composer Wajid Khan took vocal exception to Sonu Nigam's tweets.
People will misunderstand your tweet n give it a communal tinge, only those who know you will know you mean not to stoke a fire. https://t.co/P8NvIQ4m4s

- TheRichaChadha (@RichaChadha_) April 17, 2017
I'm hurt as my dearest brother @sonunigam tweeted such words about #Azaan n not being a Muslim #Gundagiri knowing U never expected ths not U

- Wajid Khan (@wajidkhan7) April 17, 2017
These are Mr Nigam's original posts:
God bless everyone. I'm not a Muslim and I have to be woken up by the Azaan in the morning. When will this forced religiousness end in India

- Sonu Nigam (@sonunigam) April 16, 2017
And by the way Mohammed did not have electricity when he made Islam.. Why do I have to have this cacophony after Edison?

- Sonu Nigam (@sonunigam) April 17, 2017
I don't believe in any temple or gurudwara using electricity To wake up people who don't follow the religion . Why then..? Honest? True?

- Sonu Nigam (@sonunigam) April 17, 2017
Gundagardi hai bus...

- Sonu Nigam (@sonunigam) April 17, 2017
Sonu Nigam has a number of albums to his name and has sung playback for films such as
Dil Se
,
Saathiya
and
Kal Ho Naa Ho
. He recently collaborated with Sachin Tendulkar on the cricket great's musical debut.