New Delhi:
Daughters of fathers, fathers of daughters. Bollywood's take on this most delicate and deep of relationships has often been simple, simplistic even. Actor Amitabh Bachchan writes in a Facebook post, "The bond between a Father and Daughter has perhaps limited itself, in our films, to that moment of 'judai' at the marriage, or at the time of proposals of marriage, from either side." But sometimes, a more complex story is told on celluloid - stories of rebellious daughters, daughters coming of age, fathers struggling to deal with their little girls growing up.
Now, filmmaker Shoojit Sircar makes the father-daughter connect the centerpiece of his film
Piku
, a story of Piku Banerjee, played by Deepika Padukone, and her hypochondriac father Bhashkor Banerjee, played by Amitabh Bachchan.
From what we've gleaned from the previews of the film, Piku is a strong, independent woman who manages her demanding father with efficiency and a wry resignation. Irrfan Khan, as Rana Chaudhary, provides help, which is reluctantly accepted, and mediation.
As
Piku
gears up for its Friday of reckoning, we take a look at some instances of how Bollywood has previously portrayed daughters and fathers.
DaddyCast:
Pooja Bhatt and Anupam Kher
Director:
Mahesh Bhatt
Remember Pooja Bhatt's debut film
Daddy
? In the film, a teenage Pooja resolves to turn her drunkard father Anand's (Anupam Kher) life around by encouraging him back into the world of poetry which made him famous.
In the film's strongest moment, Pooja fights her maternal grandparents who think Anand is responsible for their daughter's death. He turns his back on alcohol and decides to build a better life with his daughter in the final song,
Aaina Mujhse Meri
.
Papa Kehte HaiCast:
Mayuri Kango, Anupam Kher
Director:
Mahesh Bhatt
This Mahesh Bhatt-directed film is much along the lines of
Daddy
, the difference being that Anand (Anupam Kher) is not initially thrilled to discover that he has a teenage daughter. However, with time he develops a bond with his daughter Sweety (Mayuri Kango) and involves himself in her life and relationship with Rohit (Jugal Hansraj).
Dil Hai Ki Manta NahinCast:
Pooja Bhatt and Anupam Kher
Director:
Mahesh Bhatt
Let's just say that Mahesh Bhatt likes to cast Anupam Kher in a father's role. And and with
Dil Hai Ki Manta Nahin
, we certainly have no complaints. This time, Mr Kher neither broods nor is depressed. It is not he who requires his daughter to 'save' him, but she who needs to be rescued from a life with a man she discovers she does not love.
In the film, Dharamchand (Anupam Kher) doesn't want his daughter Pooja (Pooja Bhatt) to marry the actor she thinks she is in love with. Pooja runs away from home as Dharamchand tries desperately to prevent her from making what he considers will be an unfortunate match. All sorts of complications ensue when Pooja meets Raghu (Aamir Khan) while she's on the run and falls in love - this time for real - with him, but decides to marry the actor anyway. Complicated? Add Mr Kher's quirky style to that, and the film becomes hilarious.
The best part of this faithful remake of
It Happened One Night
is when Dharamchand tells Pooja to run away even as he walks her to the marriage
mandap
.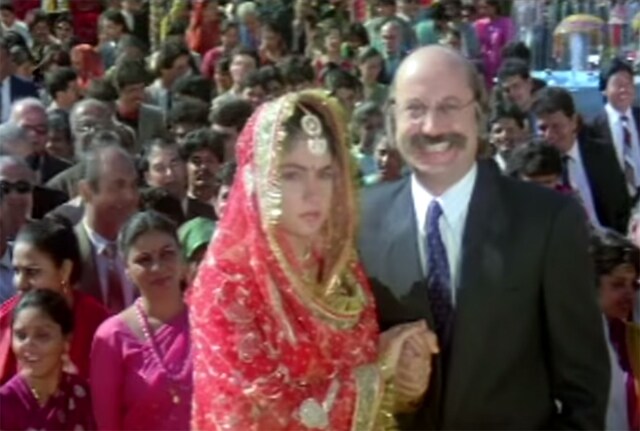 TaalCast:
Aishwarya Rai and Alok Nath
Director:
Subhash Ghai
In this tale of musical highs and lows, Mansi (Aishwarya) is the talented daughter of a talented father, played by Alok Nath. Much is made of her musician father by an industrialist and his family, but when a romance develops between their son Manav (Akshaye Khanna) and Mansi, tempers fly. Mansi cannot allow her love for Manav override her affection for her father and ends the romance when her father is insulted.
But, of course, this is Bollywood, and it all ends happily.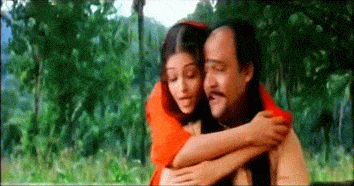 Kuch Kuch Hota HaiCast:
Shah Rukh Khan and Sana Saeed
Director:
Karan Johar
Karan Johar's debut film not only showcased the romance between two old friends who rediscover each other but also the relationship between Rahul (Shah Rukh Khan) and his daughter Anjali (Sana Saeed).
After losing his wife, Rahul's only solace is his daughter Anjali, a reminder of the best friend, also called Anjali, he once had. Rahul's world revolves around her and there's nothing he won't do for her, from playing the fool to cool her down in a marketplace to rescuing her from a meltdown at an elocution competition.
Anjali, who knows she is the apple of her father's eye, runs away to a summer camp in the hope of reuniting her father with his college sweetheart. And she does.
YaadeinCast:
Jackie Shroff, Kareena Kapoor, Avni Vasa and Himani Rawat
Director:
Subhash Ghai's
Yaadein
, debacle though it was, explored the father-daughter relationship in some detail. Raj Singh Puri (Jackie Shroff) tries his best to deal with the different personalities and complicated lives of his three daughters Avantika (Avni Vasa), Sania (Himani Rawat) and Isha (Kareena Kapoor).
Avantika is compliant, Sania is rebellious and Isha is caring. The story revolves around how Raj comes to terms with Isha's relationship with his multi-billionaire best friend's son Ronit (Hrithik Roshan).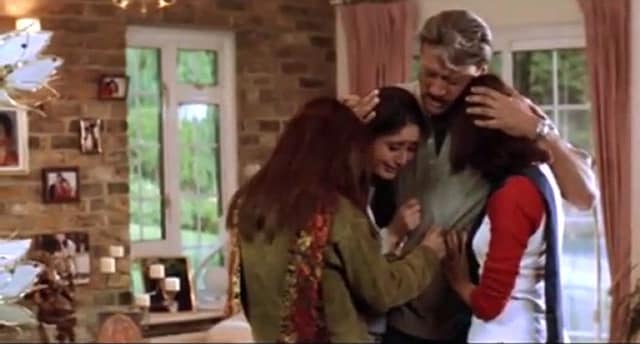 Hey BabyyCast:
Akshay Kumar, Riteish Deshmukh, Fardeen Khan and Juanna Sanghvi
Director:
Sajid Khan
An equation reversal takes place in Sajid Khan's
Hey Babyy
. Three wayward men - Arush (Akshay Kumar), Ali (Fardeen Khan) and Tanmay (Riteish Deshmukh) - find a little girl on their doorstep with a note saying "Take care of your daughter".
Their lives are turned upside down, first because they have no clue how to handle the situation and then, when they finally rise to the occasion, her mother - Isha (Vidya Balan) - returns. The fight is then to bring back Angel, who is Arush's biological daughter.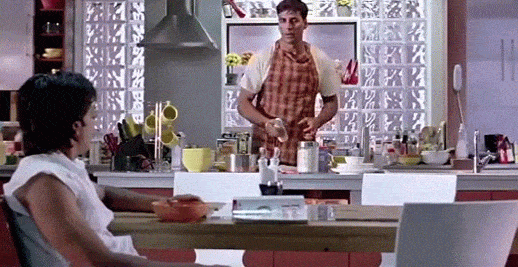 Khamoshi: The MusicalCast:
Nana Patekar and Manisha Koirala
Director:
Sanjay Leela Bhansali
Born to deaf and mute parents, Annie (Manisha Koirala) grows up to become a singer and this is the story of a daughter who is extremely sensitive towards any judgment of her parents, especially her volatile father. The film portrays in a hard-hitting way the awkwardness Annie sometimes feels due to her father and the protective instincts that are triggered in her at others.
In a scene, Annie reprimands Joseph (Nana Patekar) for making too much noise while eating. But there is embarrassment involved when she asks him to accompany her to her first song recording. Joseph is uncertain as he thinks he will be laughed at. What Annie does next will melt your heart:
Chachi 420Cast:
Kamal Haasan and Baby Sana
Director:
Kamal Haasan
Chachi 420
, inspired by Hollywood film
Mrs Doubtfire
, narrates the story of Jai (Kamal Haasan) who is deeply attached to his daughter Bharti but loses custody of her in divorce. And then, in a desperate attempt to be a part of his daughter's life, Jai cross-dresses and becomes Laxmi Godbole aka Chachi.
The mark of the strength in their relationship is when Bharti recognizes her father in a second.
Dilwale Dulhania Le JayengeCast:
Amrish Puri and Kajol
Director:
Aditya Chopra
DDLJ
is not only the definitive Bollywood romance, it is also a lesson in how many of India's fathers and their daughters, indeed their children, treat each other with courtesy and respect but also fear and distance.
In the film, NRI Londoner Chaudhary Baldev Singh (Amrish Puri) longs for the green fields of his native Punjab and is a strict father to his two daughters Simran (Kajol) and Rajeshwari (Pooja Ruparel). Despite the
desi
values he advocates, he allows Simran to holiday in Europe with her friends. When he discovers she's met and fallen in love with Raj (Shah Rukh Khan), he whisks her off to India to marry a groom of his choosing. But this most stern of parents does not, at the end, let his own sense of pride and dignity stand in the way of his daughter's happiness.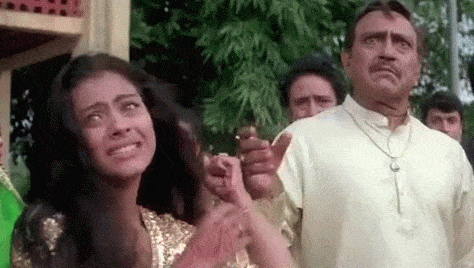 BewakoofianCast:
Rishi Kapoor and Sonam Kapoor
Director:
Nupur Asthana
Bollywood dads have often turned villains (in the first half) on their daughters' romances.
Bewakoofian
is another example.
VK Sehgal initially disapproves of his daughter Mayera's (Sonam Kapoor) relationship with the jobless Mohit (Ayushmann Khurrana) but eventually gives in.