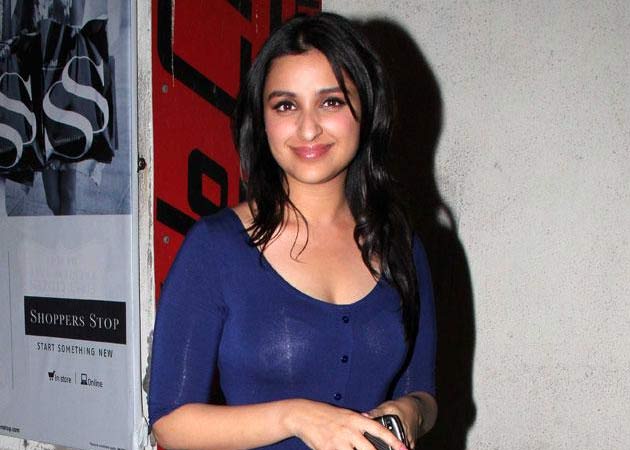 Mumbai:
National Award-winning actress Parineeti Chopra says she will wear a bikini only when she is in the right shape, but not right now.

Yash Raj Films is known for presenting their heroines in the most glamorous way on screen. However, the 25-year-old, who has done five films with the banner, including her forthcoming releases Daawat-e-Ishq and Kill Dil, is yet to flaunt her glamorous side.

Excerpts from an interview

Ques: Are you following the Yash Raj Films' tradition of heroines getting into a bikini?
Parineeti: No, no, no! I am not doing anything that startlingly glamorous. I'm sure I'll wear a bikini, but at the right opportunity. I've to get into the right shape for that.

Ques: For that you'll have to cut down on your pizzas?
Parineeti:Hai na? It's impossible for me to cut down on my pizzas entirely. But I am trying. But Kill Dill doesn't really require me to be ultra-slim. I play a girl from Delhi and I have to dress, look and speak in a certain way. It's not as if I, Parineeti Chopra, would go out of character to prove how glamorous I can look.

Ques: Why such a fuss about what you wear?
Parineeti: Wearing western outfits is not such a culture shock for me as it is made out to be. I am unnecessarily being slotted as the-girl-next-door because I guess every heroine has to be put in a compartment.


Ques:
Being a foodie, did you enjoy doing
Daawat-e-Ishq
?
Parineeti:
Yes, all three of us - Anupam (Kher) Sir, Aditya Roy Kapur and I, love food. I'd say
Daawat-e-Ishq
is a celebration of love and food, love for food, love over food.
Ques:
: We love food. But strangely we don't have too many Indian films about food?
Parineeti:
It all happens in good time. We can't have films about food just for the heck of it. There has to be a proper story to tell because it stretches to a two-and-a-half-hours of playing time. Though food plays an important part in
Daawat-e-Ishq
, it is at the end of the day a love story.
Ques:
: Did you eat a lot during the film?
Parineeti:
Oh, we were constantly eating. Every other day there was a sequence showing us eating and the scene would go on the entire day, so you can imagine. We ended up eating all the time.
Ques:
Did that mess up your metabolism?
Parineeti:
No. I think my body was quite happy with all that food (laughs).
Ques:
Daawat-e-Ishq
is your second film with Habib Faisal. How was the comfort level this time?
Parineeti:
I think we have started understanding one another to the point where we understand one another implicitly. I am very proud to be working with Habib sir again.