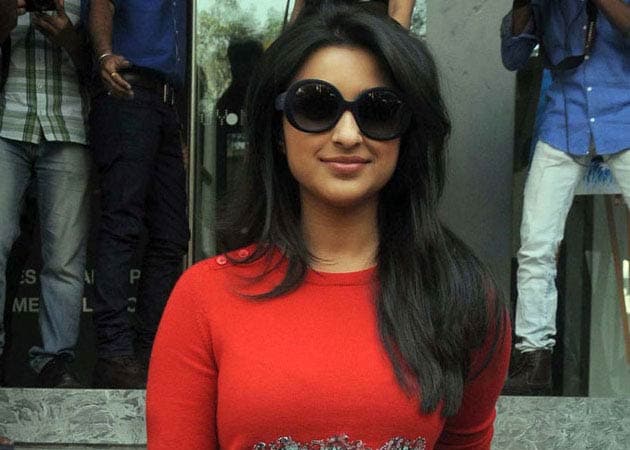 Mumbai:
Actress Parineeti Chopra feels perturbed when people refer to her as the quintessential 'girl-next-door' of Bollywood. She hopes that with her forthcoming films Kill Dil and Daawat-e-Ishq, she will be able to break that stereotype.

In an interview, Parineeti has shared insights about working in Kill Dil, on being stereotyped and dating rumours.

Excerpts:

Ques: What's it like working with Shaad Ali in Kill Dil?

Parineeti: I think I am in awe of Shaad. When I got the offer, I was happy I was going to work with the director of Saathiya and Bunty Aur Babli. But now that I've got to work closely with him, my love and respect for the person that he is, has skyrocketed. He is a joy to work with. No matter how much the stress on the sets, he's always in a good mood. When a director is not temperamental, then the actor looks forward to going to the sets every day. For us actors in Kill Dil - Ranveer Singh, Govinda and me - Shaad is not just a fantastic director but also a friend. When we finished shooting we partied together.

Ques: Ranveer and Shaad are very close friends. So were you the outsider in the beginning?

Parineeti: Oh yes, for sure! I already shared an equation with Ranveer. I used to manage his career when I was working for Yash Raj Films. He was also my first co-star. But I didn't know Shaad at all. But within five minutes of meeting him, the ice was broken. It's not difficult to get along with Shaad.

Ques: He's an introvert and you're an extrovert?

Parineeti: Shaad is not an introvert! He talks a lot. He is constantly joking and laughing.

Ques: So after Rani Mukerji are you the new 'Babli' in Shaad's cinema?

Parineeti: Ha ha. I hope not. I am not at all the bindaas bubbly type in Shaad's film. I am very different in Kill Dill from the way I am seen in my other films. That's what we all from the Kill Dill team believe. So far I haven't done anything that's glamorous, be it Shuddh Desi Romance or Hasee Toh Phasee, I've so far pretty much played the normal working class girl. (Also Read: Parineeti Will Wear a Bikini. Know When)


Ques: Slotting you as the girl next door belittles your versatility?
Parineeti: That's what I feel too. Whenever I am asked this, I've to spend half an hour explaining why I feel I don't need to be slotted as the girl-next-door. Like when I am asked, 'Oh, you excel at playing the loud Punjabi girl'. The funny thing is, I've only played Punjabi in one of my first four films released so far. I was not Punjabi in
Ishaqzaade
or the subsequent films.
Ques: Then why this perception?
Parineeti: Maybe some people think just playing loud characters makes me Punjabi. But if you think about it, the girl I played in
Hasee To Phansee
was very different from the girl in
Ishaqzaade
. I hope
Daawat-e-Ishq
and
Kill Dill
kill that image.
Ques: You seem to have worked with all the younger actors. Now do you look forward to working with the Khans and Kumar?
Parineeti: I am doing a film with Saif (Ali Khan). I am very excited. I don't plan too far in the future.
Ques: What about a boyfriend. One never hears of you being linked with anyone?
Parineeti: Oh, there is one link-up, with Maneesh Sharma - that's always there. That rumour never goes, maybe because I spend a lot of time with him, even go out with him. Over here if you are seen with the same man more than once, you're presumed to be involved with him. But the truth is that I haven't really found a person to be in a relationship with. I am looking forward to that.
Ques: I am sure there's someone waiting for you out there. We have Mr. Yash Chopra's word for it?
Parineeti. In that case he better come out in the open quickly!